I started revising recipes a couple of years ago when I decided it was time to be as healthy as possible without the loss of the foods that I love. I did a lot of research on foods, nutrition, and the body to discover everything I could to enhance the recipes. Every time I create the healthy version of a recipe, I would follow these 6 points:
1. Healthy - decreasing the bad nutrients and increasing the good nutrients
2. Tasty - the recipe needs to taste the same or better
3. Good Portion Size - enough to make you fell full
4. Easy to Make - with two kids I have to make this quickly!!
5. Common/ Everyday Ingredients - ingredients you can buy at the local store and use until they are gone
6. Complete Dinner - pairing a side with an entree makes things a lot easier when trying to feed the family
As you will see with my recipes, I still use some of the staple ingredients that I used when I was cooking the unhealthy versions - I just change how much of those ingredients are used and how those ingredients are used. I also added many new staples to my kitchen that help change my recipes to the healthy version.
These recipes have helped change my family to a new and healthy lifestyle and I hope they do the same for yours.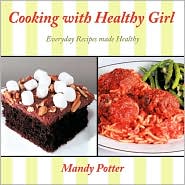 Received from the publicist for review.
This one gets four stars. It was simply packed with lots of great recipes and tons of beautiful photographs to show them off. I was happy to see the Zucchini Joes on page 57, as well as several other zucchini recipes since I always seem to have a glut of zucchini from the garden. I'll also definitely be making the Beef and Pepper Stew. It should make for a nice, hearty Fall meal. Although I'm normally a full fat cooking girl, a la Barefoot Contessa, I really enjoyed this and came away with many new recipes to try. Almost everyone can find something to try from this comprehensive cookbook. I look forward to seeing more releases from this author.
★★★★
☆
= Really Liked It