In his first book, Tony Hsieh - the hip, iconoclastic, and widely-admired CEO of Zappos, the online shoe retailer - - explains how he created a corporate culture with a commitment to service that aims to improve the lives of its employees, customers, vendors, and backers. Using anecdotes and stories from his own life experiences, and from other companies, Hsieh provides concrete ways that companies can achieve unprecedented success. He details many of the unique practices at Zappos, such as their philosophy of allocating marketing money into the customer experience, the importance of Zappos's Core Values ("Deliver WOW through Service"), and the reason why Zappos's number one priority is company culture and his belief that once you get the culture right, everything else - great customer service, long-term branding - will happen on its own. Finally, Delivering Happiness explains how Zappos employees actually apply the Core Values to improving their lives outside of work, proving that creating happiness and record results go hand-in-hand.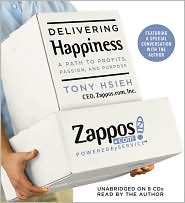 Received from the publisher for review.
Let me just start by saying that this was read by the author. Unfortunately, he ranks with A.J. Jacobs in the top ten authors who should never, ever read their own books.
This one gets one star. The author simply comes across as a bragging jerk. He begins the book by bragging about how he sold his first business for $265 million. I gather that this lovely tidbit was
supposed to be inspiring, but it just made me dislike him. He just came across as yet antihero clueless management idiot raking in the profits while the people actually doing the work get paid minimum
wage. His Jack Canfield "I'm better than you." attitude was simply intolerable. The only thing I did like was that the guy actually wrote the book and didn't use a ghost writer as 99.9% of other celebrity "writers". The bottom line is that if you can get past the grating attitude and you're looking for a sleep aid, skip you Ambien and turn this on. You'll be asleep in minutes.
★
☆
☆☆
☆
= Didn't Like It