EAT IT UP! incorporates a whole person, mind/body/spirit approach to prevent weight regain in the months and years following weight loss surgery. Each chapter explains obesity's negative impact and offers skills and strategies to overcome difficulties following surgery. Written with humor, compassion and a "firm and fair" approach, EAT IT UP! is a must-have for the millions who are obese or overweight. Regaining weight in the months and years following bariatric surgery is a devastating reality - one that can be prevented.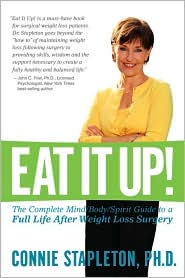 Received from the publicist for review.
This one gets two stars. The religious (
not
spiritual) aspects were more than a bit disconcerting. After I read the story about the author's "beloved" dog who was hit and killed by a garbage truck I just could not tolerate the author any longer. How "beloved" could he have been if she left him run free in the street. Not that beloved, that's for sure. The author's "better than you" attitude also grated. The author has clearly never been significantly overweight so she really cannot create a bond with the reader. Frankly, I was just not impressed at all. While some readers may find the information beneficial it felt to me rather like someone who has never driven a car trying to teach another to drive. The book knowledge is there, but all the book knowledge in the world can't replace actual real life experience. This may be worth a look, but I wouldn't rely on it as your sole source of information.
★
★
☆☆
☆
= Just Okay