"The Enchanted Rope" is a fairy tale of one boy's journey into a fantasy world. Since his mom died Jack was a very sad boy. Then with the help of his magic rope he discovers he can visit his mom anytime he wants.
"Jack stood there among the wildflowers and never ending fields of dreams. His Magic was missing one small red flower. He knew that his mom had kept it. Then a huge smile appeared on his face, and the Alaskin sun smiled back at him.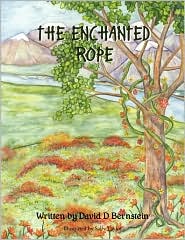 Received from the publisher for review.
This one gets three stars. This struck me as a strange story with a vaguely religious tone. I'm just concerned that children may misinterpret the story and really try to build a magical rope. The oddly fifties style illustrations of the mother wearing a dress and apron were appropriate for the target audience, but not ideal. This is certainly worth a look if you know a child who has lost a loved one as the message of the book that you can always visit your lost loved ones inside your own heart was a nice one.
★★
★
☆☆
= Liked It