On the first day back to school from summer vacation, John is the new kid. When the librarian asks him if the school is any different from his last one, he begins a wildly imaginative story about what it was like. What follows are hilarious scenarios—his old school bus was a safari jeep pulled by wild creatures, the school was a castle, and the lunch menu included worms! His imagination wins him the attention and awe of his librarian and peers, setting the tone for a compelling story about conquering the fears of being a new kid, as well as the first-day jitters that many children experience.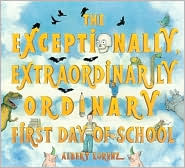 Received from the publisher for review.
This one gets three stars. It was an amusing story, but not wonderful. The illustrations were nice, but combined with the multiple speech bubbles and relatively large amount of text the pages felt a bit cluttered. The Extraordinary Facts sidebars were genuinely interesting and I learned quite a bit. This is certainly recommended if you're looking for a new or different type of children's book.
★★
★
☆☆
= Liked It