Over the course of his 60 years, Christopher Hitchens has been a citizen of both the United States and the United Kingdom. He has been both a socialist opposed to the war in Vietnam and a supporter of the U.S. war against Islamic extremism in Iraq. He has been both a foreign correspondent in some of the world's most dangerous places and a legendary bon vivant with an unquenchable thirst for alcohol and literature. He is a fervent atheist, raised as a Christian, by a mother whose Jewish heritage was not revealed to him until her suicide.
In other words, Christopher Hitchens contains multitudes. He sees all sides of an argument. And he believes the personal is political.
This is the story of his life, lived large.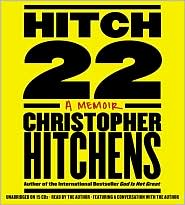 Received from the publisher for review.
I know I'm in the minority here, but I genuinely enjoy the author's work so I was really looking forward to this. Unfortunately, I was a bit disappointed as this was read by the author who, although he is British, has none of the char, voice, or flow that would keep you listening during the entire 17 plus hours required to finish the audiobook. His voice is hypnotic, so this should probably not be listened to while driving either.
This one gets three stars. If it were in book form this would receive four stars since the material itself was good, but the presentation left me unsatisfied. Really, if the author wasn't reading his own material I would have thought that he was bored by reading it. In short, the writing was good, the story itself good, but get it in book form.
★★
★
☆☆
= Liked It