THE PROBLEM

Every parent, politician and concerned citizen should read this book. Education hasn't changed much since Ben Franklin opened his Latin School. Each year, the system procreates itself as a carbon copy of what it did the year before.

21st Century public schools are inadequate for the modern world. Many say that we need deep educational reform. Our schools need fixin!

IT'S NOT SOMETHING NEW

Confucius said "I hear and I forget. I see and I remember. I do and I understand.

This point is very important in our search for the new school. We learn best by DOING!

CONSTANT VS VARIABLE

In a typical public school classroom TIME is CONSTANT, and LEARNING is VARIABLE. Time allotted to learning a set body of information is one semester or term. Unfortunately it turns out that LEARNING is the VARIABLE because no two students digest the same amount of information at the same speed. Teachers spend a constant amount of pouring knowledge into student receptacles (brains). Students retain variable amounts of learning.

Our aim is to make LEARNING the constant and TIME as the variable.

HELPING TEACHERS DO WHAT THEY DO BEST

In today's school environment, very few teachers have the time, knowledge or technical skills they'd need to produce individual systems of learning. Even fewer are equipped to develop high-tech educational media modules. Though most teachers are experts at operating in the present classroom environment, it takes technically trained writers to generate the kind of formal manuscript which would lead to the development of effective self-paced, individualized media modules.

Needless to say, we cannot put this kind of burden of development upon teachers. Their job is to manage learning, motivate students and inspire the next generation. That's why we must assign module development to media professionals. Then, these same professionals would train teachers in effective utilization.

I realize it will take more than lip service to persuade teachers of the benefits of using media modules. But I'm convinced that once they experience it for themselves, they'll realize the efficiency and effectiveness that individualized media modules will bring to their classroom. Most important of all, they'll be building bridges which lead our deserving students to their highest potential.

SCHOOLS HAVE FALLEN BEHIND

Business, industry, and government agencies are already using individualized, self-paced materials and methods very successfully. A few institutions of higher education are using these techniques in varying degrees. In a few places, this dynamic approach to learning has filtered down into primary, elementary and secondary schools. Evidence of successful results is overwhelming for those units incorporating proper design and implementation.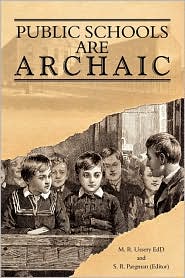 Received from the publisher for review.
This one gets two stars. The author struck me as rather arrogant and believes that his way is the only way, which really grated on me. The author's attitude, combined with the many words in bold really took away from what could have been an interesting book. Some of the theories were interesting, but hardly viable on a large scale. Overall, this as marginally interesting and could have been handled much, much better as it ended up being just plain annoying more than anything else.
★
★
☆☆
☆
= Just Okay