In this debut novel, Peter is a simple man who lives by a simple truth--a person gains strength by leaning on his constants. To him, those constants are the factory where he works, the family he loves, and the God who sustains him. But when news of job cuts comes against the backdrop of an unexpected snowstorm, his life becomes filled with far more doubts than certainties.

With humor and a gift for storytelling, Billy Coffey brings you along as he spends his snow day encountering family, friends, and strangers of his small Virginia town. All have had their own battles with life's storms. Some have found redemption. Others are still seeking it. But each one offers a piece to the puzzle of why we must sometimes suffer loss, and each one will help Peter find a greater truth--our lives are made beautiful not by our big moments, but our little ones.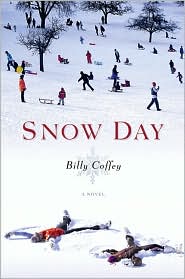 Received from the publicist for review.
This one gets two stars. It was quite readable, like listening to a friend tell you a story. I was mildly intrigued by the book until the rant on why saying "Happy Holidays" was offensive to Christians. That just really disturbed me - and not in the pro "Merry Christmas" way. The messages presented were, at times, valuable and told well. What kept this from three stars, for me, was the pervasive religiosity of it. The rah-rah "Yea for Christians! Down to everyone else!" attitude was more than a bit grating.
★
★
☆☆
☆
= Just Okay