The first look at the philosophical issues behind Charlaine Harris's New York Times bestsellers The Southern Vampire Mysteries and the True Blood television series


Teeming with complex, mythical characters in the shape of vampires, telepaths, shapeshifters, and the like, True Blood, the popular HBO series adapted from Charlaine Harris's bestselling The Southern Vampire Mysteries, has a rich collection of themes to explore, from sex and romance to bigotry and violence to death and immortality. The goings-on in the mythical town of Bon Temps, Louisiana, where vampires satiate their blood lust and openly commingle with ordinary humans, present no shortages of juicy metaphysical morsels to sink your teeth into.


Now True Blood and Philosophy calls on the minds of some of history's great thinkers to perform some philosophical bloodletting on such topics as Sookie and the metaphysics of mindreading; Maryann and sacrificial religion; werewolves, shapeshifters and personal identity; vampire politics, evil, desire, and much more.


The first book to explore the philosophical issues and themes behind the True Blood novels and television series

Adds a new dimension to your understanding of True Blood characters and themes

The perfect companion to the start of the third season on HBO and the release of the second season on DVD
Smart and entertaining, True Blood and Philosophy provides food—or blood—for thought, and a fun, new way to look at the series.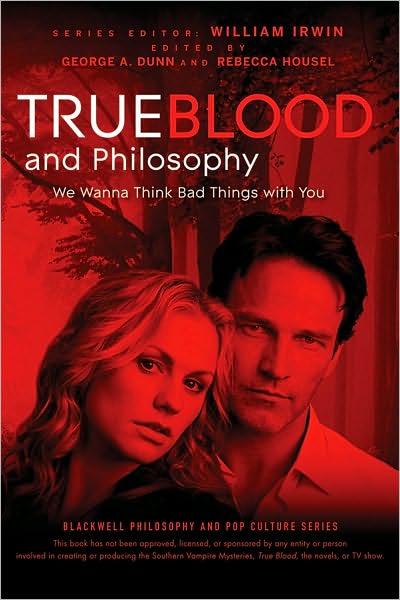 Received from the publicist for review.
Although I have yet to read any of the book I am a (non-rabid) fan of the show and found this quite interesting.
This one gets four stars. It brought up a number of really intriguing topics such as human/vampire interactions, when to turn a human, sex with vampires, and religion. While this was a bit on the intellectual side it was a genuinely thought provoking look into the dynamics of Sookie's world and the characters who live there. I was quite impressed with the breadth of topics covered and the detail of each essay, as well. This would make an interesting gift for any
True Blood
fan. Perhaps the publisher should also send a copy to the Playboy Mansion since Crystal and Hef are
True Blood
fans!
★★★★
☆
= Really Liked It