Curiosity just might be the death of Mrs. Murphy--and her human companion, Mary Minor "Harry" Haristeen. Small towns are like families: Everyone lives very close together. . .and everyone keeps secrets. Crozet, Virginia, is a typical small town-until its secrets explode into murder. Crozet's thirty-something post-mistress, Mary Minor "Harry" Haristeen, has a tiger cat (Mrs. Murphy) and a Welsh Corgi (Tucker), a pending divorce, and a bad habit of reading postcards not addressed to her. When Crozet's citizens start turning up murdered, Harry remembers that each received a card with a tombstone on the front and the message "Wish you were here" on the back. Intent on protecting their human friend, Mrs. Murphy and Tucker begin to scent out clues. Meanwhile, Harry is conducting her own investigation, unaware her pets are one step ahead of her. If only Mrs. Murphy could alert her somehow, Harry could uncover the culprit before the murder occurs--and before Harry finds herself on the killer's mailing list.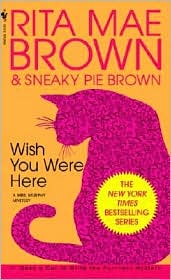 From the library.
I picked this up for the
2010 Cat Book Challenge
since Mrs. Murphy, one of the main characters, was a cat.
This one gets three stars. Overall it wad rather good, but the whole Southern aspect of bashing "Yankees" and referring to the "War of Northern Aggression" (keep in mind that this was published in the 1990s) wore very thin very fast. The story itself was good, but I'm going to stick with my New England and English mysteries. I don't need to be repeatedly offended by my pleasure reading material. Tucker and Mrs. Murphy were nice additions to the basic amateur detective story recipe. Southern cat lovers should enjoy, but apparently Northern ones need not apply. The author appears to be so well sold that she can alienate Northern readers at will. So, if you live north of Pennsylvania, don't bother reading this.
★★
★
☆☆
= Liked It