Linda Byler, author of the book Running Around (and Such): Lizzie Searches for Love, Book 1, stopped by to share with us a yummy recipe.


---
Whoopie Pies
By Linda Byler,
Author of Running Around (and Such): Lizzie Searches for Love, Book 1
Makes about 4 dozen whoopie pies
2 cups sugar
1 cup oil
2 eggs
4½ cups flour
1 cup dry cocoa powder
½ tsp. salt
1 cup sour milk
2 tsp. vanilla
1 cup hot water
2 tsp. baking soda
FILLING:
4 cups confectioners sugar, divided
2 egg whites, beaten
1 tsp. vanilla
1 ½ cups vegetable shortening
1. To make pies, cream sugar, oil and eggs together thoroughly in a large mixing bowl.

2. In a separate bowl, sift together flour, cocoa powder, and salt.

3. Add these dry ingredients to creamed mixture alternately with sour milk.

4. Stir in vanilla.

5. In a small bowl, dissolve baking soda in hot water.

6. Stir into batter until smooth.

7. Drop batter by rounded teaspoons onto cookie sheets.

8. Bake 8-10 minutes at 400º

9. Remove from oven and allow to cool.

10. While pie tops/bottoms are cooling, make Filling.

11. In a medium bowl fold 2 cups confectioners sugar into beaten egg whites.

12. Stir in 1 tsp. vanilla.

13. Beat in shortening until smooth.

14. Beat in remaining 2 cups confectioners sugar until smooth.

15. Assemble pies by spreading a dab of filling over a cooled bottom and topping it with a second cookie.

The above is an excerpt from the book Running Around (and Such): Lizzie Searches for Love, Book 1 by Linda Byler. The above excerpt is a digitally scanned reproduction of text from print. Although this excerpt has been proofread, occasional errors may appear due to the scanning process. Please refer to the finished book for accuracy.
Reprinted from
Running Around (and Such)
. Copyright © by Good Books (
www.goodbooks.com
). Used by permission. All rights reserved.
---
About the author:

Linda Byler
grew up Amish and is an active member of the Amish church today. Growing up, Linda loved to read and write. In fact, she still does. She is well known within the Amish community as a columnist for a weekly Amish newspaper. Linda and her husband, their children, and grandchildren live in central Pennsylvania.
For more information please visit
www.goodbooks.com
.
---
About the book: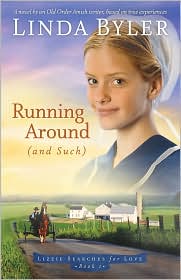 A romance novel by an Amish writer, based on true experiences! It isn't that Lizzie doesn't want to stay Amish. There is just so much to figure out. What will become of Lizzie? Is she too spirited, too innocent and almost too uninhibited to be a young Amish woman?
---