Cats 24/7 each collects more than 500 intimate, funny, and charming photographs taken by professional and amateur photographers. Here are our four-legged companions at their best, up close and personal in small towns and big cities, farms and parks, kitchens and living rooms. Combining great pictures, compelling stories, and insightful essays, this lavish volume is a fitting tribute to our feline friends.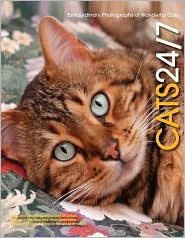 From the library.
I found this quote from the book especially interesting and it left me praising karma for the ignorant bastards dying after murdering innocent, defenseless animals!
During Europe's Middle Ages, the shoe was on the other paw. No longer gods, cats became scapegoats, demons even, and were slaughtered by the thousands as witch's familiars. Fewer cats meant more rats; with flea-bearing rodent populations unchecked, and estimated 20 million Europeans died of the Black Death in the 14th century.
This one gets three stars. This was amusing at times, sad at others, and certainly not for
real
cat lovers. These people may care for their cats but they don't really love them. You can just tell. The photographs were lovely, with my favorites being He's Naked!, Jarhead, Book Lover, Bunny Love, Eskimo Kisses, and Back-Door Buddies. Really, this would have been four stars for the quality of the photographs, but for the anecdotes from the stupid, annoying owners.
★★
★
☆☆
= Liked It