An entertaining look into both sides of the glass counter in a gun store, CONFESSIONS OF AN EX-GUN DEALER details the memoirs of Ludwig Sawicki who, in the 1980s owned one of the largest gun stores in the United States. Here you will meet memorable characters such as Uncle Al, Bull Frog Bob, Adolph the eccentric gunsmith, and Charlie of the blow-up doll fame. You will relive along with Ludwig and his friends the hunting trips in search of big game and the safari trips to Africa. You will learn the inner workings of a Chicago gun store what it takes to start one and how to keep it running the various guns that have passed over the counter and the people who bought and sold them. Here are the fascinating details of a gun store that was not only a place of business but also a "home away from home" for a number of interesting people-all of whom make for entertaining read. You will come away with a truer understanding of the inner workings of an institution that does not exist much anymore-the truly personal gun store, its proprietor, and its many patrons. As Ludwig says, "Long story. Short...."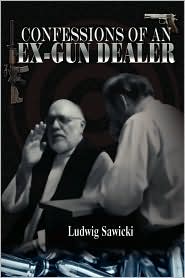 Received from the publisher for review.
As I am quite obviously not a plaid wearing NRA member I wasn't sure if this was for me and I was right. The world is simply completely foreign to me and actually quite repulsive. The culture shock was on par with an episode of
Wife Swap
and the pictures of dead animals, shot not for food but for sport sickened me.
This one gets three stars. Despite the subject matter the presentation and quality of the narrative was good. It was well written and the numerous photos were a nice addition to the text. I cannot agree with the subject matter, but the quality of the book itself was good. Unless you are a gun aficionado or a hunter this is simply not for you.
★★
★
☆☆
= Liked It