New love and even more questions enter Lizzie Glick's life in When Strawberries Bloom, the second novel in this series written by an Amish writer and based on true life experiences. Lizzie's dream of teaching school has finally come true. She loves the brand-new school building, the sound of the children singing, and the independence she has in the classroom. Even the occasionally unruly boys can't ruin the excitement she feels each morning when she starts the school day.
But at home things are in turmoil again. What do Dat's sudden health problems mean for the future of their farm? And what about Lizzie's future? Emma and Mandy are so certain that Joshua and John are their perfect matches, but Lizzie doesn't know what to think about Stephen and how he might fit into her life.What will Lizzie decide? Will she continue to teach school? Or will she give up that dream so that her wish for marriage and a family can come true?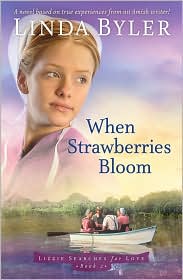 Received from the publicist for review.
This one gets four stars. It is obviously best if you've already read the first book in the series,
Running Around (and Such)
, but it works equally well as a stand alone book. This was a lovely, happy read with the same sort of warm, fuzzy feel that
Anne of Green Gables
imparts. Each chapter has an adorable illustration of a strawberry plant beneath the chapter number which is just such a cute addition that it makes you smile as you're reading. The lovely section of recipes at the end of the book is wonderful. I can't wait to try the Sand Tarts! This is highly recommended if you're looking for a light, happy read. I'm certainly looking forward to the the third book in the series!
★★★★
☆
= Really Liked It