Susie Fishbein, author of Kosher by Design: Teens and 20-Somethings, stopped by for a Q&A.


---
You've produced six bestselling cookbooks in less than ten years. Was this what you had in mind when you started?
Not at all. But the response from the early adopters of Kosher by Design was so enthusiastic, I just kept going. My family and friends were very encouraging, as well. And the world of kosher food has shifted dramatically in the last decade. We have choices today that would have been unthinkable ten years ago, with world class kosher wines, kosher sausages, kosher gelatin, and many new kosher ingredients. Also, we have a proliferation of fine kosher restaurants which have influenced how people cook and entertain at home.
Your latest project focuses on teens and 20-somethings. Why this group?
There are really two groups in this demographic. There is the segment that subsists mostly on fast food, whose idea of home cooking is a store-bought entree warmed in the microwave. I want to widen their choices. Then there's another segment that is really into cooking, that has a more developed and health-conscious approach to eating. This group is more aware of ingredients, portions, nutrition, and actually reads packaging labels. I've observed firsthand that this is true of boys as well as girls. They are looking for new recipes and new approaches to eating. I also have in mind the college student cooking in a dorm or a first apartment. I considered the adventurous teen who wants to have friends over for something more substantial than pizza and pretzels. More personally, I have teens in the kitchen now. Their tastes have changed; they and their friends are more sophisticated. You should see what my kids can create in our kitchen! My recipe designs are crafted with all these in mind, as well as the adults who cook for them.
So this cook isn't just limited to the young, aspiring home chef?
Not at all. Over-30's will find great ideas in Teens and 2-Somethings. And if you are a parent who cooks for this age group, you'll be very happy because they'll love the diverse cuisine - not to mention that all the older adults I've surveyed said that they would use this cookbook for their regular meal planning as well.
From looking at your previous cookbooks, it seems you like an international mix of recipes. Does that carry through in Teens and 2-Somethings?
I simply write about what I like to eat. I like to keep things fresh and exciting in the kitchen. I look for inspiring ideas from countries that have interesting cuisine. I take an eclectic approach and end up with fun combinations. Imagine coming home to a dinner made by your college student, featuring Mexican Pizza Empanadas, Creamy Gnocchi Pesto Salad, Thai Chicken Burgers, Hoisin Vegetables, and finishing with a Chocolate Tart in Pretzel Crust. There are dozens of suggestions here to "eat your way around the world".
It's an odd question but how "Jewish" is this kosher cookbook?
As you'll notice with Kosher by Design Short on Time, Teens and 20-Somethings is not a thematically Jewish cookbook, though many of the recipes are great for Shabbat and holiday meals. Among the 100 new recipes, few are discernibly Jewish (OK - the Hot Pretzel Challah, perhaps - and there is a good recipe for traditional Chicken Soup). You'll find some pretty tantalizing American-style dishes such as Turkey Sliders, Peanut Butter and Banana French Toast, Tater Tot Casserole, and Tie-Dye Cookie. But they are all kosher.
How labor-intensive are these recipes?
They were designed for young people in minimally-equipped kitchens - like a dorm room or a first apartment. They are simple, quick, fun to prepare, and really delicious. While these reaps are really for anyone anywhere, we've prepared them with a specific demographic in mind that has shown a keen interest in eating and learning about cooking.
Is this the last installment in the Kosher by Design series?
Would you be surprised to know that I'm already thirty recipes into the next project?
---
About the book: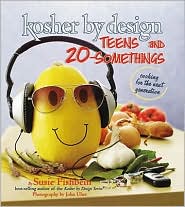 Susie Fishbein knows fun cooking; her best-selling Kosher by Design series has revolutionized kosher cuisine. Susie also listens; so when teens and young adults asked for a cookbook that fits their lifestyle - fun food that's delicious and quick to prepare - she responded. Kosher by Design: Teens and 20-Somethings is just for them - just for you.
Want to make amazing food at home instead of ordering another takeout meal? Thinking about surprising your mother with a superb full course dinner, but need help? Need creative ideas to plan a great party at home - even on short notice? Looking for simple-to-do recipes that don't require fancy kitchen gadgets? You're in luck! Here are 100 uncommonly delicious alternatives to common fast food!
Young people, newlyweds, students, and the ones who feed them - will all welcome
Kosher by Design: Teens and 20-Something
s, the newest and most anticipated member of the KBD family.
• 100 easy-to-prepare new recipes
• Large full-color photo featured with every recipe
• Icons to indicate vegetarian, nut-free, dairy-free, & gluten-free recipes
• Unforgettable party ideas: a backyard bash, game night, and more
• Comprehensive cross-referenced index
---
About the author: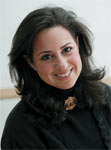 With the release of
Kosher by Design Teens & 20-Somethings
, we welcome the arrival of the seventh exciting cookbook by kosher cook and author Susie Fishbein. Her wildly successful
Kosher by Design
series has already sold over 400,000 copies worldwide and has led to hundreds of appearances by Susie from coast-to-coast and Canada. She has been the featured celebrity guest on cruise ships as well as at a week-long culinary adventure in the Galil in Israel. Profiled in the
New York Times
and on CNN, Susie has been named one of the 50 most influential Jews by the Forward. She has been a guest on dozens of network TV and radio shows. Susie was featured at the Epcot International Food and Wine Festival at Disneyworld, and taught at the Degustibus cooking school in NY. Recently, Susie was an honored guest at the White House in recognition of National Jewish Heritage Month. Susie resides in Livingston, New Jersey with her husband and four children.
---