Pack your bags for Texas and prepare to meet the strangest family since that little Chainsaw Massacre incident.

Psychologist Jessica LeFave will be your guide, but be forewarned, Dr. LeFave isn't your average shrink, and though her wisecracking lawyer buddy, will try to keep Jessica out of trouble, he might not be able to save you, or himself.

Your journey opens when Jessica is summoned to profile the killer who drove a spike through the heart of the notorious Bernice Jackson. Jessica is more than a little excited. Not because Bernice Jackson is dead, but because Bernice who'd soared to fame and wealth by shamelessly re-writing treasured historical events into wildly successful soft-porn novels and movies was a psychiatry patient of her husband's at the time of his death.

You see, Jessica is convinced her husband was murdered to bury a secret revealed in therapy. Since watching him dragged from the bottom of Lake Austin a Hilton receipt and another woman s wedding rings in his pocket Jessica has been a little crazy, obsessing over his files, even stalking patients with dodgy reputations.

The police dismiss her claims, leaving Jessica on her own to land your Texas tour smack in the middle of the bizarre movie-making family starring a doped up basket case son, a daughter on a death wish eating binge, and the ghost of Bernice Jackson who'd pushed her obsession with seeing herself as young and beautiful beyond any psychotic dream.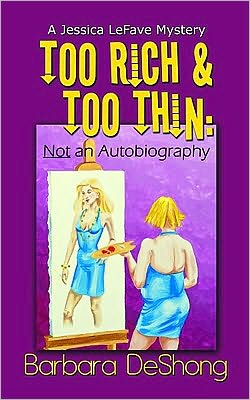 Received from the publicist for review.
This one gets two stars. Unfortunately, the text was rather small and tightly packed which quickly translated to eyestrain. The story was well written with a good flow and had an interesting plot, but the sheer length of the book (over 300 pages) made it a bit wearying. I wanted to like this, I really did. It
sounded
so interesting, but it just wasn't for me. I didn't really connect with the characters so there was no emotional hold to the book for me which it made it much easier to dismiss the book than if the connection had been there. I just didn't care about what happened to the characters. Perhaps if you enjoy complex mysteries set in Texas this would be for you.
★
★
☆☆
☆
= Just Okay