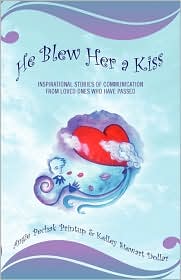 It comes as a brush of the shoulder, a breath, a familiar scent, or perhaps a gentle breeze when everything else is still. These remarkable sensations are all examples of our loved ones communicating to us after they are gone from this life-letting us know they are in a better place, and yet still with us.
He Blew Her a Kiss collects dozens of such stories of after-death communication, in which husbands, wives, children, grandparents, and others, gently let us know that their spirit lives on. This series of short, delightfully written vignettes-based on real-life stories from all over the country-describes:
-How a simple note tied to a balloon proves the incredible power of love to transcend all, following the death of a beloved wife
-The voicemail message a sister receives after her brother has passed-and its incredible tidings of hope
-The uncanny revelation contained in a TV game show that supplies comfort to a family after the death of their patriarch
-The nightlight that flickers only when a granddaughter speaks of her late grandmother-and how it refuses to go out...and much more
Filled with touching accounts that will make you smile and cry at the same time, He Blew Her a Kiss is required reading for anyone who has ever experienced the loss of a loved one and needs a little help to carry on.
---
Received from the publisher for review.
This one gets three stars. It was the first in a series and I look forward to future releases in the series. Some of the stories from this lovely collection certainly bring tears to your eyes. Reading the book is almost like a hug. It is certainly recommended for those who have lost a loved one.
★★
★
☆☆
= Liked It