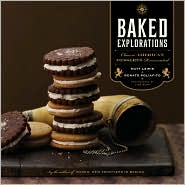 Matt Lewis and Renato Poliafito's 2008 Baked was published to national critical acclaim and raved about across the blogosphere. Since then, their profile has gotten even bigger, with continued praise from Oprah and Martha Stewart; product availability in every Whole Foods across the U.S.; and a new bakery in Charleston, South Carolina, with even more traffic than their original Brooklyn location.
Now, in
Baked Explorations
, the authors give their signature "Baked" twists to famous desserts from across the country. Here is their take on our most treasured desserts: Banana Cream Pie, Black & White Cookies, Mississippi Mud Pie, and more—from the overworked to the underappreciated. Readers will love this collection of 75 recipes from breakfast treats to late-night confections and everything in between.
---
From the library.
This one gets four stars. It was a wonderful collection of unique recipes covering everything from cookies to pies to cakes, and beyond. Granted, some of the recipes are more advanced, but armed with a trusty KitchenAid mixer the majority of the recipes will be more than manageable for the average from scratch baker. The Honey Corn Muffins came out very well and didn't last long enough for me to photograph them for the review! On the other hand, the Double Chocolate Loaf, while tasting yummy, horrendously overflowed the pan and looked hideous. This is certainly recommended for bakers.
★★★★
☆
= Really Liked It