---
Author Betty Byrd has seen it all-including drilling her very own oil well! She now brings her unique vision and experience to Utopia Texas, a riveting tale of Brya Harrison, a woman created by chance and circumstance. Part gambler, part geologist, Brya knows that in the West Texas oil country upbringing may not matter, but status is everything. She has worked hard to secure her position, but she finds her plans unravel when she discovers that her daughter, Olivia, is somehow "different," and is forced to face the unfathomable-one startling revelation at a time. Drawn into a maelstrom of events fueled by her daughter's indiscretions, Brya sets out to cover each one up-whatever the cost. But will she be able to combat the demons plaguing her daughter as skillfully as she is able to face down her competition in the cutthroat world of big oil?
In this stunning followup to the author's debut novel, Trinity's Daughter, Betty Byrd has woven a brilliant tale of wealth, greed, love, and the pursuit of power-and how one particular woman holds her own in the male-dominated oil business.
---
---
About the author: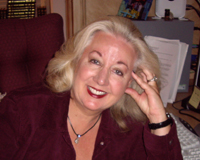 Betty Byrd is one cat that has truly lived nine lives. The first life was that of a jock, where Betty found herself excelling as a competitive swimmer, field hockey player and cheerleader. Through college, she began to realize that her creativity was too strong to ignore. After graduating from the University of Arizona with a Creative Writing degree, Betty packed up her cowgirl life and headed to Ohio to pursue graduate work at Ohio State University. She put her degree to use quickly when she landed jobs as an editor for The Spectator, Ohio's largest weekly newspaper, and freelancing for a national men's magazine. After having some success as a writer, Betty yearned for another creative outlet, that of a performing artist. Blonde locks in tow, she left her mid-west roots for Southern California. Hollywood took a liking to the spunky blonde actress who's resume includes a role on the television series Gunsmoke, as well as featured roles in numerous films, mini-series, and commercials. Betty took a bow as the curtain closed on her acting career when she decided to take on the hardest challenge yet, that of a mom. Once her daughter was in high school, Betty once again felt that creative itch. This time she picked up a pen and returned to writing. Her first novel titled, Trinity's Daughter, was well-received as she traveled throughout America on a book tour and was honored back at home in San Diego. She is also a recipient of a first place award for her new novel, Utopia, Texas at the prestigious Santa Barbara Writer's Conference. She is still featured in newspapers, television and radio talk shows, although now as an established author.
Betty Byrd contently lives in San Diego with her husband and German Shepherd, constantly creating and never letting the pen leave the page.
To learn more about Betty Byrd and her upcoming projects and events, visit her on the Web at
bettybyrd.com
---