I read a lot of cookbooks and cozy mysteries that include yummy recipes for cookies and other baked items and I love to try the recipes (but I can't reprint them for obvious copyright reasons so you'll have to pick up the book if you want to try them!) so I've decided to share my results in a new post series called Baking by the Books. I'd love your feedback!


---

Peanut Butter Chews
from The King Arthur Flour Cookie Companion
I needed to make some peanut butter cookies for a Christmas gift so I went with a new recipe called
Peanut Butter Chews
which are soft peanut butter cookies. Of course, as soon as everyone heard about it I had to make some for them too, so I had to make a double batch. It took three hours to make the cookies, bake them, and clean up. So not fun. I can't even stand the smell of peanut butter anymore. But, the cookies came out really nice. They're on the smaller side (about two bites), very soft (about the texture of an oatmeal raisin cookie), and perfectly round which is very cool.
---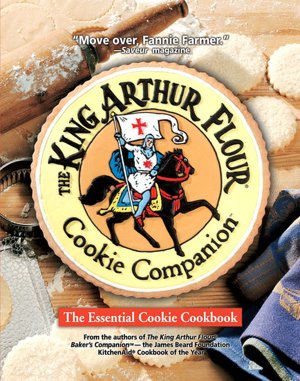 America's favorite bakers turn a fresh eye on cookies—everyone's favorite homemade treat.
Drawing on the same commitment to the home-baking community that has earned them hundreds of thousands of dedicated followers, the bakers at King Arthur Flour guide you through more than 400 recipes, revealing the secrets to making your own mouthwatering cookies for any occasion.
The bakers begin by singling out the "Nine Essential Cookies" and variations that reflect a variety of tastes, textures, and ingredients:
brownies
sugar cookies
chocolate chip cookies
shortbread
oatmeal cookies
peanut butter cookies
molasses-ginger cookies
biscotti
decorated cookies
From whoopie pies to ladyfingers, it's all here in one place. The King Arthur Flour Cookie Companion includes full chapters on drop cookies, roll-out cookies, shaped cookies, batter cookies, no-bake cookies, and bars and squares.
You'll find complete instructions for making cookie icings, fillings, and dips. You'll find a thorough overview of the essential ingredients of cookie baking, explaining the chemistry of flours and grains, leavens, sweeteners, fats, dairy products, flavorings, and the science of how these ingredients work together. You'll also learn tips on substitutions and variations; measuring and weighing ingredients; even advice on high-altitude baking. Recipes are enhanced with sidebars providing hints, shortcuts, troubleshooting advice, and recipe lore. And each recipe is accompanied by a complete nutritional analysis. Illustrations throughout the book provide clear step-by-step instructions that take the mystery out of such baking terms as "creaming," "soft-ball stage," and "folding." Finally, a comprehensive illustrated chapter describes the essential baking tools you'll want to have on hand.
Selected one of "The Best of the Best" by the editors of Food & Wine Magazine.
---