---
About the book: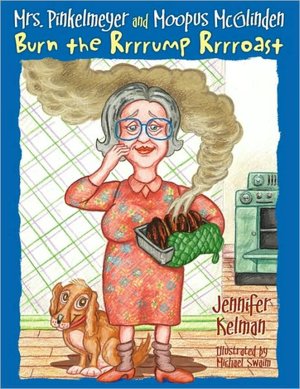 Meet the Silliest, Warmest Know-It-All™, Mrs. Pinkelmeyer from Poppingham, England and her furry brown dog, Moopus McGlinden, in their first adventure. This fresh, funny, and charmingly illustrated story will make even the youngest children laugh and smile. When Mrs. Pinkelmeyer tries to put her rrrrump rrrroast in the oven, she talks on the phone to a mysterious stranger in New York who is caring for her nephew while his parents are away. Any child who has felt the sadness of separation from a loved one knows a good story can provide just the right comfort. Mrs. Pinkelmeyer distracts Henry who missed his parents so much that he was no longer singing or playing. As Mrs. Pinkelmeyer talks to little Henry on the phone from the other side of the Atlan c, he forgets his absent parents while concentrating on Mrs. Pinkelmeyer and Moopus.
Mrs. Pinkelmeyer goes on to tell Henry of Moopus's adventures at the butcher shop where he skips and sings and takes a juicy steak bone home to hide away and eat in private. A er slobbering all over the bone, Moopus is in need of a bath. Mrs. Pinkelmeyer scrubs her furry friend everywhere, even behind his ears. Hearing this sends Henry into giggles all over again (in addi on to giving him a subtle message about cleanliness). Though in the end Mrs. Pinkelmeyer burns her rrrrump rrrroast (don't forget the rolling r's), she is unconcerned, because she is so happy to have helped Henry feel better. This book is the perfect gift for a child whose parents are leaving on a trip or going to be absent for any reason. All children, however, will fall in love with the irrepressible joy embodied by Mrs. Pinkelmeyer and her dog Moopus. Burn the RRRRump RRRRoast is the first in a series of Pinkelmeyer stories. It won't be long before Mrs. P. and Moopus come skipping by again.
---
About the author:
Jennifer Kelman grew up in Jericho, New York, where at age 14 she began babysitting and volunteering at her local hospital to help children suffering from illness. Her love of children prompted her education and career path, graduating with a BA in Sociology from American University and then a Masters in Social Work from NYU. She founded a non-profit organization to prevent eating disorders, lecturing to more than 10,000 students and parents. As soon as Jennifer became an aunt, she spent as much time as possible with her niece and nephews. That is how she discovered her storytelling muse-improvising characters, channeling silly voices, and doing impersonations. Taking care of her nephew when his parents were away, Jennifer was inspired to create Mrs. Pinkelmeyer, Silliest, Warmest Know-It-All™. Now she has created a line of products including dolls, music, temporary tatoos, and a children's book series based on Mrs. Pinkelmeyer.
It is possible to see Jennifer around town, dressed as Mrs. Pinkelmeyer, spreading her love and warmth to children she encounters. Jennifer continues to develop Pinkelmeyer products, and when not in Pinkelmeyer mode, she is an avid athlete who enjoys tennis and golf. Jennifer's greatest joy, however, is motherhood; she is blessed with new twins, a boy and a girl, who inspire her creativity.
---