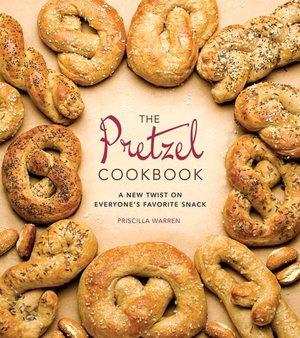 Pretzels have been a beloved snack ever since their creation more than 1200 years ago. Today, everybody has their own favorite pretzel-be they sweet or savory, crunchy or soft-all of which are included in this great collection of more than 150 different recipes, twists, toppings, and fillings for the world's favorite snack! Packed with fun tidbits and information about the pretzel's history and lore, The Pretzel Cookbook helps indulge and entertain pretzel lovers with a variety of ways to enjoy their favorite snack, and helps new pretzel lovers learn that the world of pretzels goes way beyond the plain hard-salted variety.
---
From the library.
My love of warm, soft pretzels began at Fenway or Shea when I used to eat them at the games as a little girl. Heck, I liked the food more than the games. After forming somewhat of an addiction to the giant soft pretzels from Whole Foods I decided to try my hand at making some at home. I thought it couldn't be that hard since I've made pizza, bread, and rolls by hand before. I picked this up from the library and tried both the Basic Pretzel and Raisin Pretzel recipes. With the aid of my KitchenAid mixer the results weren't half bad. They were certainly tastier than particularly attractive but taste trumps looks in this case.
So, if you're looking for a basic pretzel introduction, this is the book for you. And, if you're looking for a comprehensive interestingly flavored, stuffed, and/or dipped compendium, this is the book for you as well. It truly does cover everything from the most basic of pretzels to add-ins, dipping sauces, stuffing pretzels, and sandwiches and meals made with pretzels. Any pretzel enthusiast will be quite pleased and this would definitely make a lovely gift. This is certainly recommended.
★★
★
☆☆
= Liked It