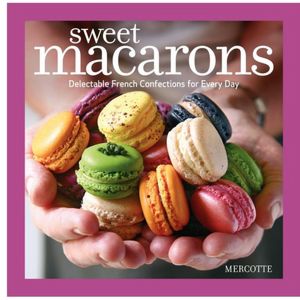 With macarons firmly in place as the latest baking craze, famed French foodie and macaron maker extraordinaire Jacqueline Mercorelli, known as blogger Mercotte, provides 25 no-fail French macaron recipes in Sweet Macarons, now available for the first time in English.
---
From NetGalley.
I love all cookbooks about baking and I simply could not pass this one up, however, I was sorely disappointed. Despite the lovely photographs by Sigrid Verbert, the recipes themselves are incredibly complicated and simply
not
for the average, or even advanced, baker. Seriously, you actually need to be Martha Stewart to get these right. The "level of difficulty" on each recipe is just a joke. It refers to the difficulty of making the
fillings
not the nightmare of making the cookies themselves.
The book does present a wide array of unusual flavor combinations, each one beautifully photographed which is always nice in a cookbook, from Licorice to Mint Chocolate but most of the recipes require specialty ingredients that you need to order online and will most likely never use again.
This would make a nice gift book for a pastry chef or an interesting flip through for everyone else. The photography alone is worth a peek.
★
★
☆☆
☆
= Just Okay