Andrea Kayne Kaufman, author of the book Oxford Messed Up, stopped by to share with us a piece she wrote.


---
Redemptive Love
The word I most frequently use to describe the romance between Henry and Gloria in my novel Oxford Messed Up is redemptive. It's a heavy word, for sure, but one I use intentionally and deliberately. I don't mean redemptive in the sense that either character has done anything truly wrong and must make amends to society. They're not convicts, that's for sure! It's more about the philosophy of allowing a second chance. Of believing in fulfillment, restoration, and being set free. All of those fall under redemptive love and all apply to Gloria and Henry.

This isn't a boy meets girl, something zany happens or a tempting other suitor appears, and they work stuff out kind of novel. That's the world of sitcom, romcom, and chick lit. I'll happily curl up on a weekend night to watch a romantic comedy and all those genres serve a purpose, but not the purpose I wanted to serve. Instead, I wanted to offer readers a complex, nuanced love story. One that, while wholly unique to my characters, felt familiar in the sense that love isn't slapstick. It's hard work, it's hard, and it's fragile. And a true love is much more than a happily ever after.

Oxford Messed Up is a love triangle between two people and the inner demons that sabotage them. It's a redemptive love because we all suffer those love triangles, battling the internal saboteurs who deny us happiness. All of us have that saboteur. The story, then, is about overcoming whatever you're struggling with to find hope and transcendence, and ultimately a happy ending. The book's tale of two people doing just that gives readers hope and strength. My hope is that readers travel with Gloria and Henry, sit with them in the claw foot tub, watch them grow, cheer them on, and see how the fight for love makes the other battles we're facing all the more worth it. And, that readers will see that they are worth the fight.

It was so important to me that Gloria be a rich, deep, complicated character. When a reader says they couldn't put the book down, which pleases me to no end, they'll sometimes comment that initially they weren't sure if they were supposed to root for Gloria. Most days, Gloria's not even sure if she's allowed to root for herself. Part of the journey with her in Oxford Messed Up is watching her realize her worth and her worthiness of love. And poor Henry! Henry assumes his charm is the only reason he gets by. Gloria doesn't believe she deserves love and neither does Henry. Yet we still root for him, too. As the story evolves, we're hopeful for them. For the couple they might be. Just like me, I think we've all got a bit of Gloria and Henry in us. So, ultimately by rooting for both of them, flaws and all, and their love we're rooting for ourselves. We're opening ourselves up to a second chance.

Gloria and Henry battle with believing they deserve happiness. It's something I've come to believe many of us suffer from: a belief that we don't deserve whatever it is we want or need. So this is a love story with a lot of twists. It's two people who feel they are irrevocably damaged and messed up. They meet, they struggle, and they challenge each other. They both so badly want the other person to get to this new, deserved place but have to fight to believe they deserve it too.

And, that description I started with? The one about redemptive love being all about fulfillment, restoration, and being set free? My own path has shown me just how much that applies to me. I had to work to believe no matter how screwed up things seem you can find hope and you can find love and it's a real truth for me now. It's a truth I desperately wanted to share with people. This story encapsulates that journey. I've come to embrace that what somebody dreads the most is sometimes the best thing for them. That's the key to redemption and, ultimately, happiness. It was a lesson I had to learn and one I wanted to share through Gloria and Henry's journey. It such a satisfying and fulfilling experience to tell their story. Nothing makes me happier than hearing that Oxford Messed Up has inspired readers to grant themselves that second chance.
---
About the book: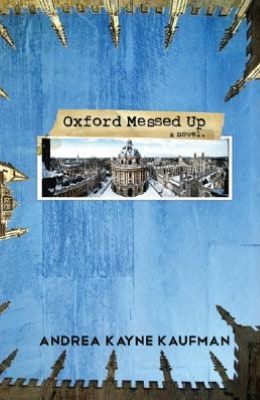 Oxford Messed Up is a unique literary love story that transports readers on a meaningful and emotional journey—where the academic world of Oxford, the music of Van Morrison, and an old claw-foot bathtub serve as a backdrop for learning, self-discovery, and transcendent love.

Rhodes Scholar Gloria Zimmerman is an academic superstar who has come to Oxford University to study feminist poetry. Yet the rigors of the academy pale in comparison to her untreated Obsessive-Compulsive Disorder, fueled by her overachieving parents and manifested in a deathly aversion to germs and human contact.

Her next-door neighbor (who is also, to her mortification, her loomate) is Henry Young, the appealing but underachieving musician son of an overbearing and disapproving Oxford don. Still mourning the death of his supportive mother while enduring the mockery of his disapproving and merciless father, Henry is haunted by the unexpectedly serious ramifications of a reckless and tragic youth.

Gloria and Henry's relationship evolves from a shared obsession with Van Morrison's music into a desire on the part of each to fill in the gaps in the life of the other. Yet the constraints of a debilitating illness and the looming revelation of a catastrophic secret conspire to throw their worlds into upheaval and threaten the possibilities of their unlikely yet redemptive love.
---
About the author:
Andrea Kayne Kaufman is chair of the Department of Leadership, Language and Curriculum at the DePaul University College of Education in Chicago. An educator and attorney, she earned a B.A. from Vassar College, an M.A. from the Harvard Graduate School of Education, and a J.D. from the University of Pennsylvania Law School. She lives in Chicago with her husband and two children.
---