I'd like to welcome Anna Bohn who has stopped by to share a lovely book review she's written for us!
---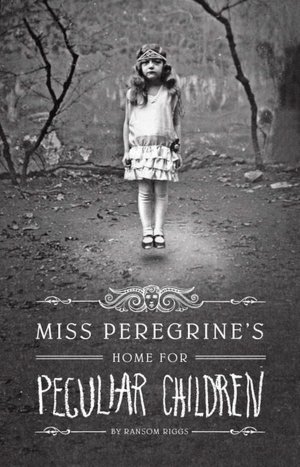 A mysterious island.
An abandoned orphanage.
A strange collection of very curious photographs.
It all waits to be discovered in Miss Peregrine's Home for Peculiar Children, an unforgettable novel that mixes fiction and photography in a thrilling reading experience. As our story opens, a horrific family tragedy sets sixteen-year-old Jacob journeying to a remote island off the coast of Wales, where he discovers the crumbling ruins of Miss Peregrine's Home for Peculiar Children. As Jacob explores its abandoned bedrooms and hallways, it becomes clear that the children were more than just peculiar. They may have been dangerous. They may have been quarantined on a deserted island for good reason. And somehow—impossible though it seems—they may still be alive.
A spine-tingling fantasy illustrated with haunting vintage photography, Miss Peregrine's Home for Peculiar Children will delight adults, teens, and anyone who relishes an adventure in the shadows.
---
Guest Review by Anna Bohn:
I recently borrowed this book from a friend of mine. She was excited to fill me in on the uniqueness of Ransom Riggs' method of story-crafting. He spent countless hours rummaging through flea markets and old family albums of people he's never met, in search of the most bizarre and "peculiar" antique photographs he could find. After accumulating a sizable collection of eccentric and often vaguely frightening images - some of them appear to be depicting supernatural events - Riggs' shaped a thrilling and fantastical plot around them.
The story follows Jacob, a teenager who, trying to cope with a shocking family tragedy, seeks out a remote island in Wales supposedly home to an orphanage where his grandfather may have lived during World War II. Aided by the photographs and stories shared with him by his grandfather, Jacob searches for the truth behind the images that have been haunting his dreams his entire life - are the children in these photos real? And are they, somehow, still alive?
I found
Miss Peregrine's
to be a quick, exciting read, and written with a sense of authenticity in the unmistakable voice of a teenage boy. Though sometimes I felt that the plot connections to the photographs were a little contrived, on the whole this is a fantastic first novel from Riggs. Perhaps we can expect a sequel soon?
★★★★
☆
= Really Liked It
---
About Anna:
Ann is a junior at Westminster College in Fulton, MO, double-majoring in English Literature and Secondary Education
---