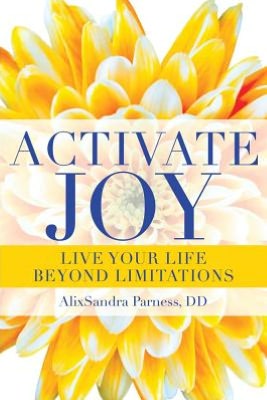 Although much of our media seem to consist of a never-ending babble of gloom and doom, a significant number of people are seeking a new way to find joy amid the pessimism. Activate Joy offers a powerful and delightful series of practical methods designed to make your journey to joy easy and fulfilling.
An ordained minister, doctor of divinity, and trained clairvoyant in a wide variety of healing and energetic modalities, AlixSandra Parness uses her brilliant tools to create new strategies to lead us into the heart of joy.
The major teachings in Activate Joy include:
The art of blessing--intentional blessings to replace criticism and condemnation
Finding perfect alignment-actions for instant joy retrieval
Discarding emotional debt for joyous living
The goodness process--I Am the Essence of Pure Goodness uncovers and transforms core shadow issues
Profound insight into recovering from grief and returning to joy
With fresh and original ideas, exercises and techniques, Activate Joy will carry you through an ascending spiral up and into the spirit of joy. It is the single resource you need to learn how to live your life beyond limitations.
---
Received for review.
I wanted to like this more than I did. I really loved the cheerful cover art but the message within dimmed my initial enthusiasm somewhat. This was essentially the now ubiquitous Law of Attraction mantra mixed with religion which did not make for particularly enjoyable reading.
While the religious aspects did remove some of the reading pleasure the messages presented were generally informative. However, the author does insist upon using the particularly annoying term "Yabbit" which left me with the unfortunate imprint of Elmer Fudd talking about his "wabbit" every single time I read it. While amusing the first few times it quickly became annoying.
Anyway, if you're looking for Law of Attraction packaged with religion this is the book for you and you should find it quite enjoyable and informative. Everyone else should probably look for an alternative option.
★★
★
☆☆
= Liked It