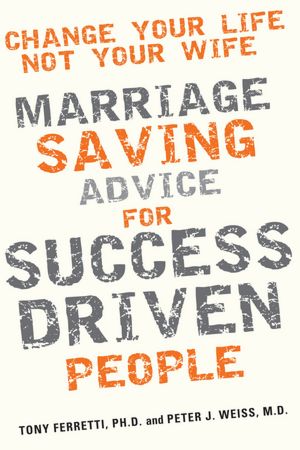 Are you winning at work but failing at home? Save your marriage before it's too late! Divorce is everywhere. Especially among high-achieving and success-driven professionals, who may leave a trail of broken relationships in their wake. In Change Your Life, Not Your Wife, psychologist Dr. Tony Ferretti and physician Dr. Peter Weiss demystify this seeming discord-highly successful individuals failing at home—stressing that the same character traits that drive career success can destroy families. Using true-to-life examples, they outline the perils of being achievement or power oriented in our intimate relationships. Eschewing blame, the authors note that usually both partners have played a role in arriving at a marital crossroads. Their good news is that relationships can get better. When couples are willing to work through their issues, dramatic improvement and healing are possible. In this book you will: discover the common personality traits behind the succeed at work/fail at home syndrome, understand how your current behavior in relationships has been shaped by your childhood experiences, assess the priorities in your life and the importance of shifting your focus from possessions to people, find simple assessments and exercises to help you evaluate your marriage, learn through a step-by-step process how to heal, nurture, and grow your marriage with proven and effective tools, and see how counseling works to help couples heal relationships, or to heal separately when relationships fail. Change Your Life, Not Your Wife can bring breakthrough changes to your marriage. This provocative message will challenge and encourage you as you get started on the road to improving your relationships. Start today!
---
Received for review.
While this was rather dry and printed in an unfortunate font size that inspires immediate eye strain this actually did provide some useable advice. Of course, this was written by and targeted towards men so I was not the best judge of its contents but the overall message was solid.
So guys, if you are looking for a new source of marriage advice, this may be for you.
★★
★
☆☆
= Liked It