---
About the book: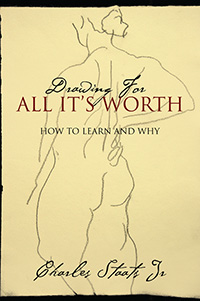 Through these pages, you will see the world of form with expanded vision. Step by step, through detailed exercises, you will come to understand lines, shapes, contours, composition, and texture, becoming familiar with the tools of your craft.

You will go beyond-to explore the influences that have shaped art through the years-when art was painted to express written ideas to the birth of "unconscious" art. Along the way you will learn about photography in art, and how copying produces false art, or art without awareness.

You will also discover the powerful personal qualities that allow an artist to progress and the vices that keep your creative roadblocks in place, and the way drawing shapes the brain. Most of all you will explore your senses and open your eyes to the synthesis that true art creates.
---
About the author:
Charles Staats Jr has been a professor for many years and has won numerous awards for his work. He has a Bachelor of Arts degree from Harvard University and a Master of Fine Arts from Boston University. Today, Staats and his wife live in Charleston, South Carolina, with their beloved pets. He has a son and 2 daughters of whom he is very proud.
---