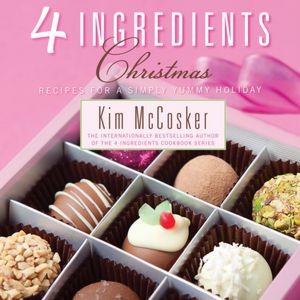 Easy, elegant holiday entertaining is as simple as 1-2-3 . . .4 INGREDIENTS!
MOUTHWATERING Christmas Day brunch. Fun snacks for Santa and his reindeer. Hearty, flavorful main courses for a bountiful holiday table. Hours of work in the kitchen and too many dollars spent at the checkout line? Not with 4 Ingredients Christmas.
Kim McCosker, the internationally bestselling author who brought you 4 Ingredients and 4 Ingredients Gluten-Free, has once again created a delightful collection of quick, easy, and delicious recipes, all using four or fewer ingredients. Maple & Pepper–Glazed Turkey, Roast Pork & Crispy Crackling, Sweet Squash Galette, Cinnamon Stars, and a decadent Christmas Candy Martini will help create the illusion that you worked endlessly in your kitchen anticipating your guests' arrival. You will be amazed by what you can create with just the right ingredients.
Find out what home chefs all over the world have already discovered. 4 Ingredients Christmas is bound to become your trusted choice not just during the festive season, but for every special occasion.
---
E-galley received for review.
This was a cute little book with lovely photos of each recipe. The recipes themselves covered a variety of options from drinks to desserts and were simple yet stunning. I mention that simple does not mean easy as some were rather complex.
Some of the recipes I'd like to try are:
Sweet Squash Galette
Brandy Custard
Coconut Cream Truffles
Overall this was solid but not fabulous with some different kinds of recipes. It might be good for your own personal reference but I'd pass on giving it as a gift.
★★
★
☆☆
= Liked It