---
About the book: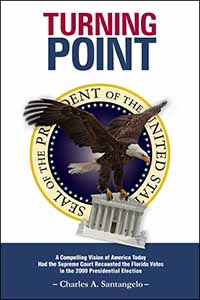 Turning Point, an action-packed love story, takes us through the political looking-glass of America in the decade following the 2000 election -- providing an alternative scenario of progressive leadership in the face of daunting challenges to national security, counter-terrorism, economic policy, and environmental protection.
Much of the story is told by Captain John "Rawhide" Cunningham, a decorated Air Force pilot turned Secret Service agent and military advisor to the president. The captain, who gets his thrills flying an F-16 at Mach 2, falls in love with the president's daughter, Karen Farnesworth. But there's one problem. She's a liberal, environmental studies graduate student at Georgetown and he's the grandson of a conservative swing-vote Supreme Court Justice. Can Captain Cunningham and Karen overcome the ideological chasm that divides Americans in the 21st century to find happiness?
Cunningham's hair-raising encounter with an Iraqi surface-to-air missile and a helicopter tour near the Arctic Circle will keep readers glued to their seats, even if his passengers wish they were. The new president, too, is in for the ride of his life – with enemies ranging from conservative media to corrupt state officials, and from terrorist groups to Wall Street financiers.
Enter Andy Jackson, an eloquent African-American voting rights lawyer who unearths a plot to steal the 2004 presidential election in Ohio. But can Andy save the popular Democratic president? And if not, where will a conservative Republican president take the country?
---
About the author:
Charles Alfred Santangelo is a veteran of six presidential campaigns and a former White House aide who has served in senior positions in the Clinton, Bush, and Obama Administrations, including at the State Department, NASA and U.S. Department of Homeland Security.
Mr. Santangelo is the author of numerous articles and has been interviewed by CNN, Newsweek, Time, Associated Press, The Financial Times and other local and national media. He is also the Co-Editor/Researcher of the award-winning political biography, Lucky Corner: The Biography of Congressman Alfred E. Santangelo.
---