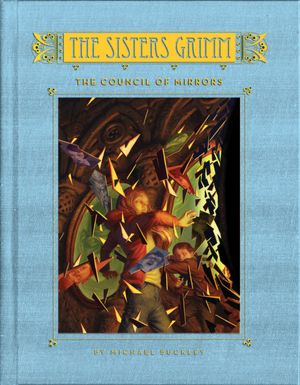 In the final volume in the Sisters Grimm series, Sabrina, Daphne, and the rest of the Grimms and their friends must face off against the Master to decide the fate of Ferryport Landing—and the world.
When Mirror fails to escape the barrier using Granny Relda's body, he turns to his plan B: killing all the Grimms so that the magical barrier collapses. In the meantime, Sabrina has gathered the other magic mirrors as advisors on how to deal with their mortal enemy. They tell her to join forces with the Scarlet Hand against Mirror, in exchange for offering all the citizens of Ferryport Landing their freedom.
This final chapter is the end of the road for several beloved characters, but the conclusion is sure to satisfy devoted fans of the series.
---
Received for review.
It's always sad to see a series end and although I enjoyed some of the books more than others this was a solid series and I'll miss future stories with these characters.
That said, I absolutely love the way this series is bound The book are short and wide (almost square) and balance just perfectly in the palm of your hand while reading which increases the enjoyment exponentially.
Back to this particular book... I didn't love the story itself, but it was the perfect ending to the story and quite nice as a stand alone book. The absolute ending(s), set in the future (I won't give anything away) were absolutely, well, perfect for the characters and you just had to smile as you turned the last page, which is always the sign of a great ending.
If you've read the rest of the series, or even a few, this is a must-read for you. I certainly recommend it to new and old fans alike.
★★★★
☆
= Really Liked It