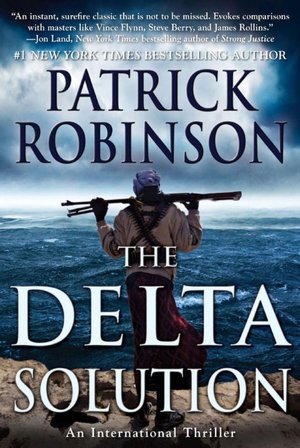 New York Times bestselling author Patrick Robinson is back with the third thriller in his page-turning Mack Bedford series: The Delta Solution.
For years, heavily armed Somali pirates have been capturing and holding for ransom massive cargo ships, violently demanding millions of dollars for their return. Each time an owner pays big for the return of their ship, the pirates immediately capture again, enraging the Pentagon. That is, until the "Somali Marines" make a big mistake, seizing at gun point two United States ships and demanding a $15 million ransom.
Hero Mack Bedford, previously encountered in Diamondhead and Intercept, is deployed to SEAL Team 10 to form The Delta Platoon. His objective: obliterate the Somali Marines in the middle of the Indian Ocean, at all costs, once and for all.
---
Received for review.
This was my first experience with the author's work and I was pleasantly surprised.
The book was very readable with an intriguing, well developed concept. The plot's twists and turns were reminiscent of a Jason Bourne, despite the military lingo which could be confusing at times.
I certainly recommend this to military and action fans who should thoroughly enjoy it.
★★
★
☆☆
= Liked It