Sheron Long, author of the book Dog Trots Globe, stopped by for a Q&A.


---
Have you traveled with pets before the trip to France with Chula?

Yes, we've traveled with all our dogs—two other Shelties and one Belgian sheepdog. Chula's first trip was by car to New Orleans when she was just nine months old. That's when she learned about hotels and elevators. On the way back, we stopped at the Grand Canyon. It was quite a sight to see this little pup peering over the edge into such a giant hole! Since that first trip, Chula has gone all over California with us, and she's now been to France three times.


Why did you decide to take Chula with you to France? Why France?

We have been to France before on shorter trips and always left Chula at home. This time we were able to stay for two months, and it was unthinkable to be away from her for that long. Why France? Well, we love Provence, so much so that we created a second home there, and we know what a dog-friendly place France is.


How did you prepare for international travel with a pet? How did you prepare Chula?

At 30 pounds, Chula was too big to travel in the cabin with us, and we wanted to be sure she would be safe in the hold. We contacted several airlines about their "accommodations" there and learned that pets travel in a pressurized cargo area just like the main cabins.

Once we were comfortable that Chula could travel safely, we did more homework. We learned the importance of selecting a properly sized travel crate. Several weeks before the trip, we left the crate open at home so Chula could go in and out as a way for her to get familiar with the crate.

We chose a good time of year to travel that was not too hot nor too cold, avoided sedation, and made sure Chula would have food and water throughout the trip. We also chose a non-stop flight to keep her travel time as short as possible.

Next we had to get Chula's pet passport ready and found a lot of help at www.pettravel.com. Rules vary by country. For France, Chula needed the EU Health Certificate to prove vaccinations, a microchip ID, a USDA endorsement with a date no more than 4 months prior to the trip, and an International Health Certificate from a vet within 10 days of the trip.


Would you consider Paris to be pet-friendly? What about France as a whole?

Dogs go everywhere in France! Most stores welcome them or provide a hitching post outside where they can wait for their masters. Many hotels host dogs for a fee, usually from 10 to 35 euros a night. Almost all restaurants not only invite dogs in, but also bring them a bowl of water. We took Chula with us whenever we went out to eat, whether in bistros or fancier places. She became good at catching anything that fell her way and especially loved that crusty French bread. She also honed her "under-the-table" manners and made friends with a wide variety of French dogs.

Despite the more than 200,000 dogs in Paris, the City of Light is a less dog-friendly place. You'll find those dreaded "No Dogs" signs on the gate of just about every park. In both Paris and Provence, those same signs appear on the door of every museum. Dogs are valued, but creative and historical works are even more valued!


What unexpected obstacles did you encounter?

Upon landing in Paris after an 11-hour flight, we wanted to get Chula outside fast. The only problem was that "outside" meant concrete surfaces, and Chula was trained not to do her business on hard surfaces. We were desperate to find some grass, and finally did at one stop on the tram between Charles de Gaulle airport and the train station.

The next obstacle came the following day on the train to Provence. Chula rested happily under Bob's legs until the conductor came by looking for tickets. Guess what? Dogs need tickets too, and for a moment we were worried he would throw Chula off the speeding train. A small payment of five euros solved the problem!


Why did you write this book? Why did you decide to tell it from Chula's perspective?

France has been a passion of mine for many years. I wrote the book to share the joie de vivre I experience whenever we are there. As it turned out, the best trip ever was the first one with Chula.

Like a puppy, so many things were new to Chula—sniffing through the big outdoor food markets, learning to ride in a taxi, hearing people talk to her in French. I began to imagine what her view was like, and that's when I decided to tell the story in Chula's voice.

The book is part Chula's memoir and part armchair travel to Paris and Provence with more than 150 color photographs. As Chula shares impressions from her dog's-eye view, humans learn a lot about French cheeses, market days, the lavender and sunflower trails, how the Eiffel Tower is painted, and more.


What were some of the memorable adventures with Chula?

Chula loved the visits to the big Provençal markets. Lots to sniff! She went from the spices to the big pans of paella to the sausage table, She became a good friend to that vendor since sausage is her passion.

But the most memorable was the day of the Transhumance in the village of Saint-Rémy-de-Provence. That's when the shepherds take their sheep from the lowlands to the lusher pastures in the highlands. Along the way, they circle the village twice. Chula is a Shetland Sheepdog, but not one who is actively working right now. When she saw 3,000 sheep headed her way, she didn't herd, nor did she nip at anybody's heels. She ran for cover under the nearest cafe table and knocked over the water bowl!


What advice do you have for owners traveling with their pet?

Do it! Leave with a sense of adventure and return with a smile on your face.


What are the top three items owners should take along when traveling with a pet?

Two leashes (because you know you'll lose one), a roll of paper towels (lots of uses, not just the obvious), and a couple of plastic pull-apart water bowls. Oh, and take plenty of mutt mitts. In French restaurants, where asking for a doggie bag is a faux pas, the mutt mitt comes in handy for stashing left-overs when the waiter isn't looking.


Where would Chula choose to go next, if she could communicate this information right now?

Anywhere we go.


How did traveling affect Chula?

We were surprised by how flexible Chula was. In one day, she traveled by car, plane, and train. She slept in a new home and in old hotels. She did it all with that beautiful Sheltie smile. But then, Chula has always been adventurous. She loves to meet people, go places, and do things. She lives every day as if it were made for her.


What resources can owners use to learn more about pet travel?

If you are going by air, check out the safety records of the airlines available to you at www.petflight.com. Search online for recommended vets in the places where you plan to stop and carry the list with you. Go here for more of my pet travel tips.


Is traveling with your pet a fad or is it going to continue to develop? If so, in what way?

On a serious note, people form strong bonds with their pets and want to share the world with them. Advances in pet travel make that possible today, and in my opinion, the number of four-legged travelers is only going to increase. As long as we can look out for Chula's well-being, we will continue to travel with her and enjoy life together far away from home. "Have dog, will travel" will always be our motto.
---
About the book:
| | |
| --- | --- |
| | Join Chula, a 9-year-old Sheltie, as she travels from California to France. This lively and often funny adventure finds Chula sniffing around the boulangeries, lavender fields, and big outdoor markets of Provence. In Paris, she trots across the Seine, stands on her hind legs in awe of the Eiffel Tower, and attends opening night at a gallery. Through vivid color photographs and Chula's unique perspective, you'll experience Paris and Provence in a delightful way and see why Chula says, "It's a dog's life there!" |
---
About the author: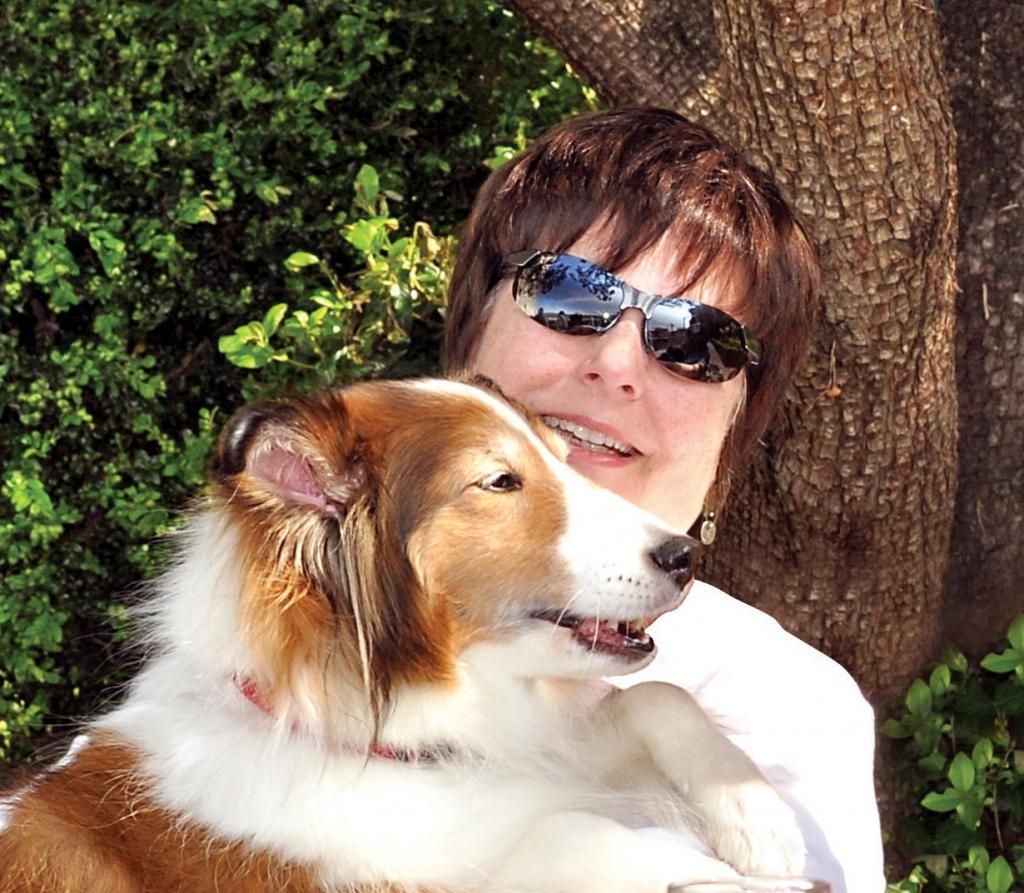 Sheron Long is the owner of the adventurous Chula. A bona fide Francophile, Long has visited Paris and Provence dozens of times. Eager to share her love of France with everyone, person or animal, Long took Chula along on one of her visits. Now, Long is an expert in traveling with a pet. For more information visit the Dog Trots Globe page on the
OIC Books website
. Or, to interact with Chula directly, visit her on FaceBook,
Chula Wula
.
---