---
About the book: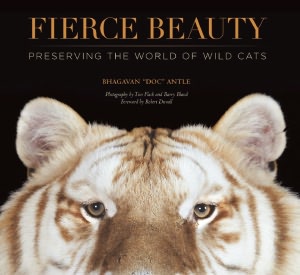 Fierce Beauty is a celebration of tigers, leopards, lions, ocelots, and other wild cats that inhabit The Institute of Greatly Endangered and Rare Species (TIGERS), a wildlife preserve in Myrtle Beach, South Carolina. The institute's fifty acres are home to more than one hundred rare animals, from ligers (a hybrid cross between a male lion and a tigress) that stretch nearly twelve feet long to cheetahs capable of running seventy miles per hour.
Featuring dozens of exclusive new portraits from preeminent nature photographer Tim Flach, Fierce Beauty depicts the beauty, power, and grace of these remarkable creatures as never before. And with more than 300 images of wild cats and essays by such distinguished conservationists as zoologist and TV personality Jim Fowler, Dakota Zoo director Terry Lincoln, and a foreword by renowned actor Robert Duvall, Fierce Beauty enables readers to experience the vibrant form, bold markings, and striking personalities that make wild cats unique cohabitants of mankind.
---
About the author:
Bhagavan ("Doc") Antle is the director of the TIGERS wildlife preserve in Myrtle Beach, South Carolina, and the founder of the Rare Species Fund, which supports animal conservation projects around the world.
Robert Duvall (born January 5, 1931) is an American actor and director. He has won an Academy Award, two Emmy Awards, four Golden Globe Awards and a BAFTA over the course of his career. A veteran character actor, Duvall has starred in some of the most acclaimed and popular films and TV shows of all time, among them The Twilight Zone, The Outer Limits, To Kill a Mockingbird, THX 1138, Joe Kidd, The Godfather, The Godfather Part II, MASH, Network, True Grit, Bullitt, The Conversation, Apocalypse Now, Tender Mercies, The Natural and Lonesome Dove. In 2005, Duvall was awarded a National Medal of Arts by President George W. Bush at the White House. He and his wife Luciana Pedraza are active supporters of Pro Mujer, a non-profit charity organization dedicated to helping Latin America's poorest women; and of efforts to preserve endangered species, particularly tigers.
Tim Flach is an award-winning photographer known for his inimitable animal portraits, including two best-selling anthologies, Equus and Dog.
Barry Bland is an internationally acclaimed photographer specializing in photography of animals both wild and tame. With over fifteen years experience Barry's work has been published in hundreds of magazines and newspapers around the world. His work regularly appears in UK newspapers including the Daily Mail, The Sun, The Daily Telegraph, and The Independent. In the U.S. he has been published in the New York Daily Post, The Daily News, In Touch, and People Magazine. In the UK his work has been seen on BBC, ITV and Sky News television. In the U.S. his photos have appeared on Oprah, Ellen DeGeneres, ABC and NBC News, Good Morning America, and Inside Edition.
The TIGERS preserve has three primary missions: (1) to increase support for wildlife preservation by giving the public an unobstructed encounter with rare and endangered species; (2) to correct misimpressions surrounding exotic big cats and captive wildlife management; and (3) to educate policy makers about the financial, strategic, and political importance of private wildlife facilities.
---