---
About the book: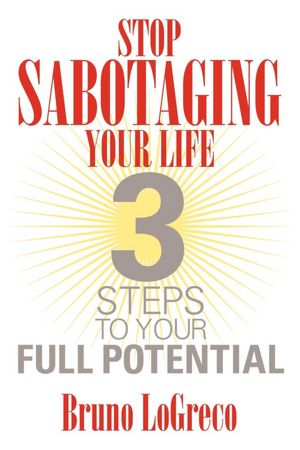 In Stop Sabotaging Your Life: 3 Steps To Your Full Potential, acclaimed life coach Bruno LoGreco shares his simple path to achieving healthy mental and emotional independence.
How many times have you caught yourself thinking something like this?: I'm not enough-good enough...smart enough...good looking enough...successful enough.... LoGreco says we sabotage our lives by focusing too much on being what others want us to be and do, and not spending enough time listening to our own hearts and minds.
Some people try to find self-acceptance and contentment through counseling, but end up trapped on the therapy treadmill. Others try to go it alone, but still end up in a tiresome process of navel-gazing that never leads to personal fulfillment. LoGreco offers a three-step plan to help you reach your own potential: self-awareness (recognize what you have been doing, and why); rebuilding values (learn a different way to do things); and clarify your dreams (identify opportunities and set realistic goals). You will learn to leverage your strengths to stop chasing illusions and work toward achieving your dreams.
LoGreco doesn't claim his book will cure everything that ails you. As he says, "There is no secret formula, no magic pill that will make you happy, productive, and free. But that doesn't mean it can't be done."
---
About the author:
Author and Life Coach Bruno LoGreco has been providing one-on-one life coaching, teen mentoring, workshops, and seminars for more than a decade, and made it his full-time life's work in 2000. He's reached a national audience through his regular cast member on Canada's smash hit series Style by Jury and Save Us from Our House. LoGreco worked with the District School Board and Canada's Ministry of Economic Development to teach students how to reach your full potential; and is a popular guest and keynote speaker at public and government events; a national spokesperson for Healthy Choice Gourmet Steamer, a regular contributor to fortune 500 pharmaceutical website, and is represented by National Speakers Bureau.
---