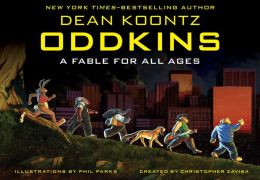 Toymaker Isaac Bodkins created the Oddkins, a group of living toys, for very special children who face difficulties in life and need true friends. There's Amos, the brave stuffed bear; Skippy, the rabbit who dreams of being a superstar; Butterscotch, the gentle, floppy-eared pup; Burl the elephant; the wise and scholarly Gibbons; and Patch the cat. The Oddkins are given to children to inspire, support, and love them, especially during times of adversity. Only now, the toys themselves are the ones who need help. Before he dies, Mr. Bodkins delivers a dire warning to Amos the bear: Watch out for an evil toymaker and his dangerous creations! Locked up in the dark sub-basement, another group of toys is climbing out of boxes and crates and coming to life as well. These bad toys—like Rex and Lizzie, the puppets with no strings; Gear, the vicious robot; and Stinger, the horrid buzzing bumblebee with his knife-sharp stinger—were made to hurt children, not help them. Leering, laughing, and deadly, they are let loose into the world by a terrifying force. Frightening as it may be, the Oddkins must go on a journey to find Colleen Shannon, Mr. Bodkins's chosen successor as a life-giving toymaker and the only person who can save them. The stormy night is perilous and the Oddkins face a danger that threatens not only their magic . . . but the magic in us all.
---
E-galley received for review.
I simply adore Dean Koontz and have read almost all of his books (admittedly I've missed a few of his very oldest ones) and was thrilled to be able to read the re-release of his book
Oddkins
that I didn't even know existed!
Despite the mild religiosity of the tale (it is a fable after all) this was simply magical. It truly captured the joy and love that very special toys bring to children, especially in troubled times. Everyone had that special toy in his or her life when they were a child and this brings a warm glow to your memories of that special toy when you imagine that maybe your toy was one of the special magical ones described in the book. Needless to say, there were a few tears shed while reading!
The (good) toys were darling, the (good) adults charming, and the bad toys and adults just scary enough without being too disturbing for younger readers (or those of us reading in the dark).
Koontz did his usual fantastic job of weaving together a tale that is truly lovely for readers of any age, child or adult, that I really cannot recommend enough. If you've never experienced the joy of a Koontz book, this is the book to start with. It is so very different than most of his books, yet the messages and truly magical joy of reading his books remains the same. This would make a truly lovely gift for yourself or someone else!
★★★★☆ = Really Liked It