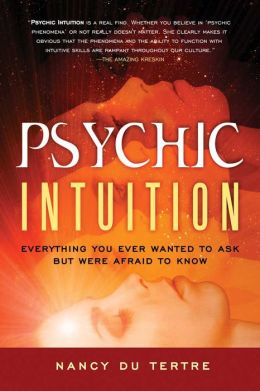 Author Nancy du Tertre, "the Skeptical Psychic™," takes you on a journey to find the answer to these questions and more in Psychic Intuition. She became psychic in mid-life after years of intensive study and training, and is now a believer that everyone has the potential to tap into their intuition and understand the world at a deeper level.
Psychic Intuition bridges the gap between skeptics who can analyze but don't experience psychic phenomena, and believers who have the experiences but lack the ability to analyze. This book explains, for the first time, how psychic ability works in the brain.
---
Received for review.
I'm certainly no stranger to the Hollywood psychic, having read books by John Edward and Sylvia Browne, but this is certainly a new take on it. The author claims to be a skeptic yet is a psychic intuitive, etc. which seems counterintuitive. This did not endear me to her in the least. The lack of endearment continued throughout the book. So, although I could not understand her perspective or motivations, I soldiered on.
This was certainly comprehensive, as advertised. It did cover various aspects of psychic ability and how it works in the brain. Was it particularly helpful for those who do not have a psychic "gift"? In a word, no. It was, at the very least, interesting. The exercises provided for non-psychics are really too simplistic and I cannot imagine that they can work unless you are already significantly inclined towards being psychic.
Overall, I found this interesting but not satisfying. If you are already assured of your psychic "gifts" you may find this an interesting guidebook. If you are not a psychic, give this a pass.
★★☆☆☆ = Just Okay