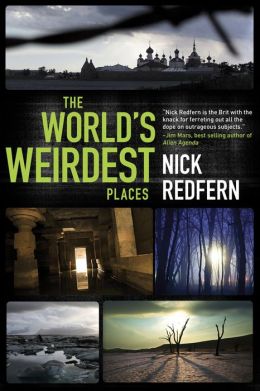 Just in time for that most mysterious and macabre of all nights--Halloween, of course--Nick Redfern unleashes The World's Weirdest Places, his latest darkly entertaining supernatural title.
In its mysterious pages, you will find Redfern's personal top 25 paranormal-themed locales, and the strange, amazing, and diabolical things that lurk within them.
From the legendary Loch Ness, Scotland, to the slopes of Mount Shasta, California; from the dark depths of the Solomon Islands to the heart of the Kremlin; and from the magical landscape of Sedona, Arizona, to the turbulent waters of the Devil's Sea of Japan, The World's Weirdest Places reveals the sheer astonishing scale of strangeness that dominates our planet.
Bigfoot, aliens, ghosts, vampires, UFOs, lake monsters, strange energies, enigmatic vortexes, werewolves, and terrifying demons are just some of the bizarre things that populate these parts of our planet, which provoke as much fascination and intrigue as they do fear and horror.
---
Received for review.
As you may know, I definitely count myself among Nick Redfern's fans. Seriously, this author is the go-to guy for creepy and real life stories. So, I was quite excited to receive this, his latest book, for review.
This is absolutely perfect reading for the infamous "dark and stormy night". Really, if you're looking for something to thorough creep you out and make you sleep with the lights on (or stick the book in the freezer a la Joey) this is it because not only are the stories about the locations creepy in and of themselves they have that extra bit of spine tingle because these are all real locations and true stories. Thankfully the closest location to me is the New York City Subway which I don't need to be worried about frequenting at any point in the near future. As if it wasn't disturbing enough without knowing about the mysterious creatures that may lurk in their depths!
The author has a lovely conversational tone to his writing which makes for extremely pleasurable reading and his passion for the subject just shines through on every page. If you've never read his work this would be a lovely introduction.
So, if you're in the market for something deliciously disturbing to read on a cold, dark night, you simply can't go wrong in picking up a copy. I highly recommend!
★★★★☆ = Really Liked It