---
About the book: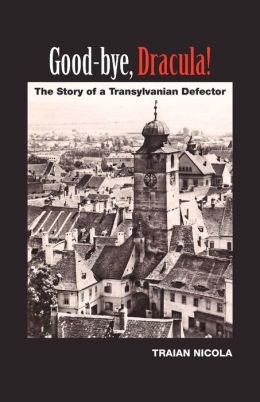 Communism Strikes at the Very Heart of the Human Soul
Good-bye, Dracula was written at a time when nostalgia for communism was on the rise in the former Soviet bloc countries after the fall of the Berlin Wall. State property was quickly transferred to a few thousand people, mostly former high-level communist party officials and secret police top brass. This left a large portion of the people, both young and old, to struggle for their very existence. Political corruption became widespread and led to disappointment and anger.
This book is more than a memoir. It allows the reader to experience communist Romania through the eyes of an innocent child growing up in the 1950s in Transylvania. It follows his life as a student and later as a member of the Romanian Foreign Intelligence Service, a powerful organization working directly for Nicolae Ceausescu, the leader of the Romanian Communist Party. This fascinating and personal account gives an insider's view of communism-and why it should never again be considered as a viable political option.
---
About the author:
Traian Nicola was born in the Transylvanian city of Sibiu in 1949. He grew up during the communist terror and darkness of the 1950s and early 1960s. In 1971, he graduated from the Academy of Economics at Bucharest, Romania, and a year later joined the Romanian Intelligence Service as a way of fulfilling his childhood dream to see the free, yet forbidden, world for himself. From 1976 until 1979, he worked as a press attaché in Japan and an economic attaché in Pakistan. Deeply disappointed with communism and feeling betrayed by the Romanian Intelligence Service, he defected with his wife and children to the United States in 1979. He became a recognized expert in the valuation of import shipments and later the World Trade Organization (WTO) valuation guidelines. He retired as vice president of a multinational company in 2008, but still works as a business consultant for the same firm. He currently lives with his wife in the state of Virginia.
---