---
About the book: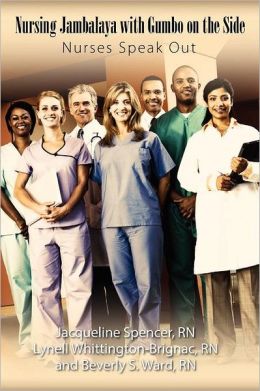 Thanks to television, film, and incorrect public perception, there are a lot of misconceptions about the critically important profession of nursing. This entertaining and educational book is the perfect read for those who are already nurses and who want to explore different facets of their career, those who are thinking of becoming nurses, and those who want a greater appreciation and understanding of an amazing calling and way of life. Forget Nurse Jackie, ER, House, and all the rest - this is the real story, told by dedicated nursing veterans. While most of us think of nurses as those providing the office and bedside care that no doctor can do without, Nursing Jambalaya shows the diversity of the nursing profession, including research, education, serving in the armed forces, public health outreach. But the heart of Nursing Jambalaya is the heart of nursing itself: helping patients to recover, and standing by patients and their families during difficult and frightening times. Celebrate a profession built on nurturing, healing, dedication, and selflessness - and have a few laughs along the way, as the authors show you their profession through the eyes of those who have lived and loved nursing for decades.
---
About the authors:
Jacqueline Spencer, RN, BSN, has been in the nursing field for over 30 years, and still finds it rewarding. She is a graduate of D'Youville College in Buffalo, NY. This is her third book.
Lynell Whittington-Brignac, RN is a Texas native who graduated from Lamar University. Lynell's career has spanned three decades in medical/surgical and psychiatric nursing. She lives with her husband, two sons, and their dog, Puddin. This is Lynell's fist collaboration as an aspiring writer, and she will continue to pursue her writing and nursing careers.
Beverly S. Ward, RN, MSN, is a nurse educator with over 30 years of experience in clinical nursing. Presently she is a second-year doctoral student at Waiden University, majoring in education for higher learning. This is her first authorial collaboration.
---