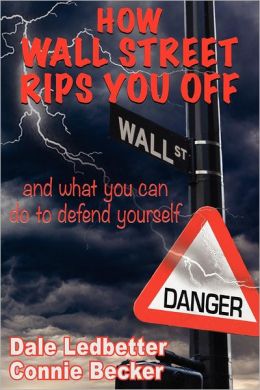 How Wall Street Rips You Off - and what you can do to defend yourself is a "one-stop source" of information and defenses for many different groups and individual investors.
The various sections of this book will walk readers through obstacles faced by the average investor in dealing with Wall Street.
The authors explore the many ways in which Wall Street rips off investors and provide readers with the knowledge, tools and strategies that can be employed as defenses against becoming a Wall Street victim.
Readers will learn of the many steps investors can take to defend themselves against the aggressive onslaught of Wall Street profiteers.
---
Received for review.
The premise of this book was interesting, as quite a few people have lost money in investments, but the reality was quite different. Yes, the book was educational, but it was dry, very dry, reading. Think economics textbook. Which is great, if you like that sort of thing, but for the rest of us it's a little tough to stay focused.
The majority of the material was extremely educational, but also extremely sleep inducing. The bullet points at the end of each section do make the material more accessible by highlighting key points though. The Horror Story sections were the most interesting parts as they described incidents that occurred to others which one can learn from.
Overall, this is an important read, but plan to read it a bit at a time as it may be overwhelming in large portions. I certainly recommend it to those who are looking for a comprehensive description of broker practices and the pitfalls of dealing with said brokers.