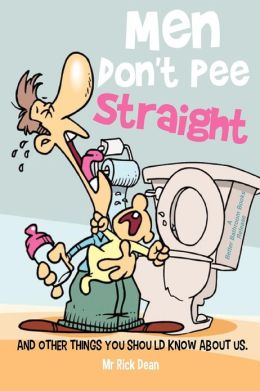 Chock full of stuff about men that you've always known but never wished to fully grasp (and always hoped would change), Men Don't Pee Straight confirms your worst fear – those male stereotypes are real, they are accurate, and they are here to stay.
Blunt and comedic, and voted best bathroom book in the universe by the Bureau of Better Bathroom Books*, these cartoon illustrated pages soften the sad reality for many mothers, girlfriends, and wives who have been hoping for change. The best anyone can do is simply grimace, shrug, and then perhaps smile. From diapers and driving thru fragile egos and toilet seats, this poignant yet tactless book will assist with that smile.
*Currently, to the best of Rick Dean's knowledge, the Bureau of Better Bathroom Books is defunct.
---
Received for review.
This slim little volume was promising from the very first glimpse at the title and I was certainly not disappointed. It was full of fun cartoons and amusing tidbits that made for light, enjoyable reading.

Some of my favorites were:
More than one fork is confusing.
More than one spoon is confusing.
More than one knife is silly (a steak knife cuts all).
Beer goes with everything.
I definitely recommend this fun little book for personal enjoyment. It would also make an amusing gift.