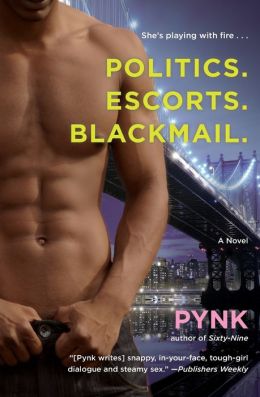 POLITICS.ESCORTS.BLACKMAIL follows the life of Madam Money Watts and explores the call-girl industry as it spills over into the world of politics in New York City. Money's exclusive, top escort service operates under the name, Lip Service, and Midori Moody, Leilani Sutton and male escort Kemba Price are her high-end contractors who make a hefty living out of sex for money.
Among her clients are two New York senators who are the very officials voters have elected to make decisions for others to abide by, yet these politicians play by a different set of rules, secretly paying top dollar for the forbidden girlfriend experience. But when a freaky client takes it too far; a pimp wants in on some of the action; and an escort gets greedy, the world of Money Watts is brought to a head.
---

Received for review.
I'm not a huge fan of erotica, but Pynk always does a good job so I decided to check out her latest offering and I was not disappointed.
Yes, this was graphic (I mean, it is erotica after all) but it wasn't trashily done. There was a reasonable, if not particularly convincing, plot which added to the readability. Is it literature? No. Is it fun? Yes. Overall I found it a nice, rather fluffy, read for a cold winter's night.
If you're looking for contemporary erotica with an intelligent feel this is your book. I certainly recommend it to erotica fans.