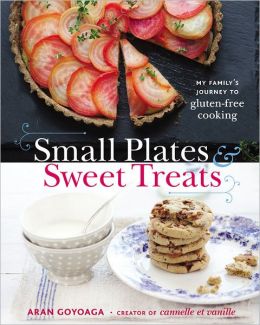 Trained pastry chef, blogger, and mother of two Aran Goyoaga turned to gluten-free cooking when she and her children were diagnosed with gluten intolerance. Combining the flavors of her childhood in Bilbao, Spain, with unique artistry and the informal elegance of small-plate dining, Aran has sacrificed nothing.
Dishes range from soups and salads to savory tarts and stews to her signature desserts. With delicate, flavorful, and naturally gluten-free recipes arranged by season, and the author's gorgeously sun-filled food photography throughout, SMALL PLATES AND SWEET TREATS will bring the magic of Aran's home to yours.
Fans of Cannelle et Vanille, those with gluten allergies, and cookbook enthusiasts looking for something new and special will all be attracted to this breathtaking book.
---
Received for review.
I actually don't eat gluten-free but I simply cannot pass up a look at a cookbook and this looked particularly tempting.
I found the Small Plates sections to be a bit too crunchy granola for me – featuring large quantities of beans, lentils, and even the odd parsnip.
I fared better with the Sweet Treats and even found a few recipes that I would actually make if I did any gluten-free baking which I don't. If I had any gluten-free friends I definitely experiment with the many and varied cookie recipes.
Overall, I found this quite comprehensive and usable if you do go gluten-free. Those who don't but have gluten-free friends or family members over for meals or holidays will find this an excellent resource. I highly recommend it.
★★★★☆ = Really Liked It