Jennifer Nielson, author of the book Rubber Band Girl, stopped by to share with us an excerpt from her book.


---
"Where is Godzilla?" asked one of our neighbors. I stopped in my tracks. I was carrying a handful of treats to the table for our neighborhood picnic at the park, where we often gathered for potluck dinners and dessert. Now that she was a gregarious toddler, Hadley loved being with her friends—they would run and play for hours. As soon as we arrived she was off, scurrying away in her favorite red-and-white gingham dress with her little posse.

"Excuse me?" I responded, certain that I must have misunderstood my neighbor's inquiry.

She asked again, this time with a chuckle in her voice, "Where is Godzilla . . . you know, Hadley?" I could hardly believe my ears. And from an adult, no less.

"Godzilla?!" I said with disgust, summoning all my power to restrain the mother bear inside me from attacking. I walked away, stunned and speechless. With the blood boiling inside me, I sought out a bench away from everyone; this get-together had suddenly lost its allure.

As I sat alone, I heard the children giggling and screaming all around me. I heard a little voice shout, "Watch me, Mommy!" I turned in the direction of the voice and saw Hadley being pushed on a swing by her dad, enjoying herself without a care in the world.

"Hadley is going to be okay," I reminded myself. Between her frequent visits to the doctor and unusual accidents, it was a mantra that I found myself reciting often.
---
About the book: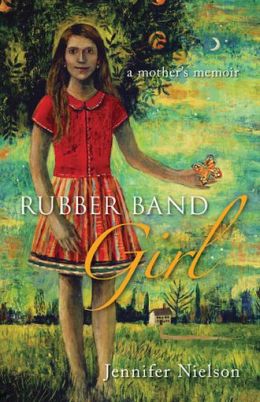 Rubber Band Girl is a heartwarming story of a mother and daughter who never give up on life or on each other
Marfan Syndrome, or "Rubber Band Disease," as it is commonly called, has taken the lives of too many, too soon. A disease that attacks the ligaments of the body, it is associated with heart and vision problems, extreme flexibility of the joints, and, its most noticeable feature, excessive height.
In this inspiring memoir, Jennifer Nielson recounts her journey as the mother of Hadley, a beautiful young girl with Marfan Syndrome. Together, they climb the mountains of life-threatening health problems and endless doctor visits. Together, they travel through the deep valleys of sorrow and loss. Together, they successfully manage Marfan's-and forge an unbreakable bond in the process.
Rubber Band Girl is a heartwarming story of a mother and daughter who never give up on life or on each other. Because of its honesty, positive tone, and happy ending, it will find an eager audience with any parent who has struggled with the health challenges of a child.
---
About the author:
Jennifer Barney Nielson has always considered writing therapeutic, which is demonstrated by a large collection of journals she still has dating back to kindergarten. She graduated Summa Cum Laude from Arizona State University with a degree in elementary education. A self-proclaimed "recovering" perfectionist, she has learned to fuse her creativity and energy to produce a successful home-based interior design business, teach music, travel the world, and raise a family. She and her husband, Talan, have five children and live in Gilbert, Arizona.
For more information about Jennifer or her book, please visit
rubberbandgirlbook.com
.
---