---
About the book: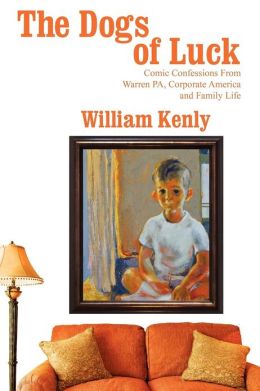 Raw Humor Exposes the Tender Underbelly of Teens, Corporate Ladder-Climbers, and Family Drama...
Remember your own personal episodes that you never told anyone because you didn't want them to think less of you, those episodes from your teens or twenties and ones that could have turned out far worse? Those times when money and time were more abundant-or just less important?
William Kenly's latest book, The Dogs of Luck, aims a penetrating spotlight on these developmental years, letting their natural humor and irony shine through. From misguided boyhood experimentation ("We were bad Boy Scouts") to the too-liberated freedoms of post-college corporate ladder-climbing, plus a generous dose of comical family dramas, Kenly helps us laugh at ourselves-at the out-of-the-box experiences that we guiltily locked out of sight years ago but which are honest experiences of life. He explores his ties with his hometown, Warren PA, challenges in the corporate world, and the complexities of family life with humor and charm, and he has the unnatural ability to turn mortifying and sometimes painful situations into wildly entertaining snapshots of the human condition.
Reminiscent of the writings of Augusten Burroughs and David Sedaris, Kenly's take on the dysfunctional life situations and gritty reality that are buried in most people's past makes for an uncommonly captivating read.
---
About the author:
William Kenly is also the author of the highly acclaimed The Dogs of Divorce (2010), with The Dogs of Cancer coming out in early 2013. Kenly and his wife live north of Boston in their empty-nest home abutting a state park. They enjoy biking, kayaking, skiing, traveling, and watching their four 20-something-year-old children start their own adult lives.
---