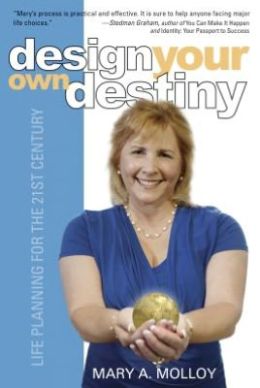 What if you could have the life you always wanted? What if it wasn't as hard as you thought? What if instead of always asking What if? you decided to dive in and design the destiny of your dreams? That opportunity is here now in Design Your Own Destiny: Life Planning for the 21st Century.
Whether it's looking for a job or trying to figure out the next steps to take in a relationship, award-winning author, speaker and life-planner Mary A. Molloy takes readers to a place where possibilities become realities. Combining years of experience working with Fortune 500 companies and clients all over the globe, Mary provides the answers to how people can make it happen. Examining the complete life with deeper connections Molloy helps people to:
o Find work/life balance
o Create tangible goals
o Put plans into action
o See results and measure success
Whether it's changing roles, changing perspectives or challenging the status quo, Mary helps readers take control and not leave what is most important to chance. She shows readers step-by-step how to break down the complex process of changing one's life so that everyone gets a personalized and manageable way to make their dreams happen.
Inspired by a talk she gave to twenty-five homeless women - many of whom took her Life Designs and were able to leave the shelter - Design Your Own Destiny will help you create the life you want to lead!
---
Received for review.
I was really excited to receive this for review since it sounded quite intriguing and I was not disappointed.
With
The
Secret
a lot of self-help books seem to be jumping on the "wish and it will happen" boat but Mary Malloy's book actually provides a solid plan to get you from determining your dreams to
actually creating and implementing a plan to make them happen. Her book is comprehensive and can be a bit dense and technical at times but throughout you can truly feel that she wants you to succeed. Her caring and faith in the reader can clearly be felt in every chapter of the book.
I highly recommend this to anyone looking to bridge the gap between the fantasy of The Secret and real life.
★★★★
☆
= Really Liked It