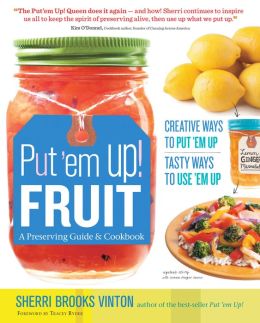 A preserving guide and cookbook all in one!
This creative collection has 80 inventive recipes for preserving all kinds of fruit, from apples, berries, and cherries to lemons, quince, and tomatoes, but it also has 80 recipes for using those preserves (or ones you buy at the store) in main dishes, side dishes, desserts, and cocktails.
Make Quick Peach Jam and then use it to make mouthwatering Sweet and Sour Chicken, or make Grapefruit and Sultana Conserve and use it in Sauteed Greens with Grapefruit Dressing.
The flavors are fresh and contemporary, and the instructions are thorough and easy to follow. Putting up the harvest has never been so delicious!
---
Received for review.
This clear, comprehensive preserving guide is a breath of fresh air! It has all sorts of fabulous fruit preserving recipes but, more importantly, i provides recipes and ideas for using up said preserved
fruits! It's certainly easy enough to use up an applesauce, but what about a more exotic chutney? This book gives you that answer, along with many, many more options.
I have canned before but I usually use regular pectin (as per the Ball canning book), so seeing the recipes use Pomona's Universal Pectin was disconcerting, but after reading the recipes I may just have to stock up on it! I actually prefer pectin jams to those that must cook for ages. The pectin jams, while sweeter, just have a much fresher taste. I'm looking forward to trying out some of the author's jam recipes.
Some of the many, many recipes that I'm looking forward to making are:
Apple and Pear Sauce
Dried Apple Dice
Earl Grey Jelly
Aprisauce
Mulled Wine Jelly
Lemon Ginger Marmalade
I may even have to try out the
Christmas
Cordial (Rumtopf)
for the novelty factor!
This fun and informative book is a must for canners and those who have an abundance of fruit. The recipes are easy to follow and don't require any special equipment (except for the actual canning procedure). This would make a ideal gift for the friend or family member who loves to can or has a home orchard. I am actually going to request that my local library add it to their collection! I highly, highly recommend this!
★★★★
☆
= Really Liked It