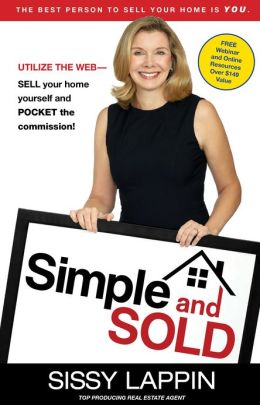 With a little training, you can do a far better job selling their home than a real estate agent ever could. Think about it who knows your home better? Who's more invested in making the transaction work? If you are selling your home, the Simple & Sold method isn't just a should, it's a must. It will teach you how to sell your home yourself and save the real estate commission, which means saving thousands of dollars and a huge percentage of your equity.

Veteran real estate broker Sissy Lappin has created this start-to-finish program to give homeowners practical, relevant advice from a neutral, objective and experienced perspective. Following the steps in Simple & Sold, you'll have all the help you need to make smart decisions for selling your home.

Sissy knows that home sales don't have to be nearly as complicated as most real estate agents would make you think. If you handle the process correctly, it s a breeze. All you need to effectively sell a home by yourself is the willingness to learn and follow a system that will put you in control.

Simple & Sold gives you the proven tools and the effective strategies used by the best real estate insiders. Sissy walks you through the step-by-step process from start to finish, helping you identify and prevent problems before they start. You'll find that this program will result in your knowing the business better than many agents out there.


---
Received for review.
Okay, so I'm not currently in the market to sell a home, but I am glad that I read this now and that if I ever need it in the future it will be on my shelf to provide me with its expertise!
This was a truly fun and educational read. I know what you're thinking "Real estate? Yawn!". Trust me, this is not your average real estate book written by the average boring business guy. The author is intelligent and funny and likable! No, really! For instance, try this paragraph:
If you have any doubts, turn on Bravo's Million Dollar Listing and
tell me with a straight face that you can't do as good a job as they
do. It's as if a Real Housewife met the snake oil salesman and had a
brood of real estate agents for children!
So, take that humor and add it to solid information on how the real estate and the real estate market works and you get a genuine and, above all, useful guide to assist you in your home sale process.
I highly, highly recommend this to anyone looking to, or even considering, sell a house. You absolutely will get every penny's worth from this book!
★★★★
☆
= Really Liked It