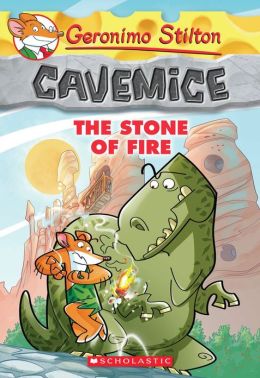 This NEW Geronimo Stilton series spin-off is set in the Stone Age!
Who is Geronimo Stiltonoot?
He is a cavemouse -- Geronimo Stilton's ancient ancestor. He runs the stone newspaper in the prehistoric village of Old Mouse City. From dealing with dinosaurs to dodging meteorites, his life in the Stone Age is full of adventure!
THE STONE OF FIRE Old Mouse City is in an uproar. The most precious artifact in the mouseum -- the Stone of Fire -- has been stolen! Geronimo Stiltonoot and his cavemouse friend Hercule Poirat are on the case. It's up to them to retrieve the stone from the ferocious Tiger Khan and his band of fearsome felines!
---
E-galley received for review.
As a fan of the original Geronimo Stilton series I was excited to try this first volume in a new spin-off series set in the Stone Age.
While the book obviously isn't historically accurate, it makes for fun reading - think Flinstones: The Mouse Edition. Young readers will enjoy the entertaining story with familiar characters in a new setting.
This would be perfect for fans of the original Geronimo Stilton series as well as making a great introduction to the Geronimo Stilton world for new readers. I definitely recommend this and am looking forward to new books in the series.
★★
★
☆☆
= Liked It